Porsche has officially unveiled its new Cayenne. In this latest version, Porsche designers have given the Cayenne an even sharper design with precise lines and purposefully placed light refracting edges. The design of the front body, the front fenders and the hood are entirely new. Another new feature are the airblades, which are air fins located on the right and left of the vehicle's front end used to guide air to the intercoolers for cooling, while also making a strong visual statement.
Also the rear section of the new Cayenne was thoroughly updated. The layout of the rear lights creates a three-dimensional effect; the brake lights – like the LED daytime running lights in front – are designed in four elements. The vehicle's horizontal lines were also re-designed, giving the vehicle an even fuller stance on the road. The newly designed exhaust tailpipes are now integrated in the lower rear fascia.
In the interior, designers devoted much of their effort to the driver's space. The driver now gets a new multifunction sport steering wheel with shift paddles as standard. Its look and functions are based on the steering wheel of the 918 Spyder.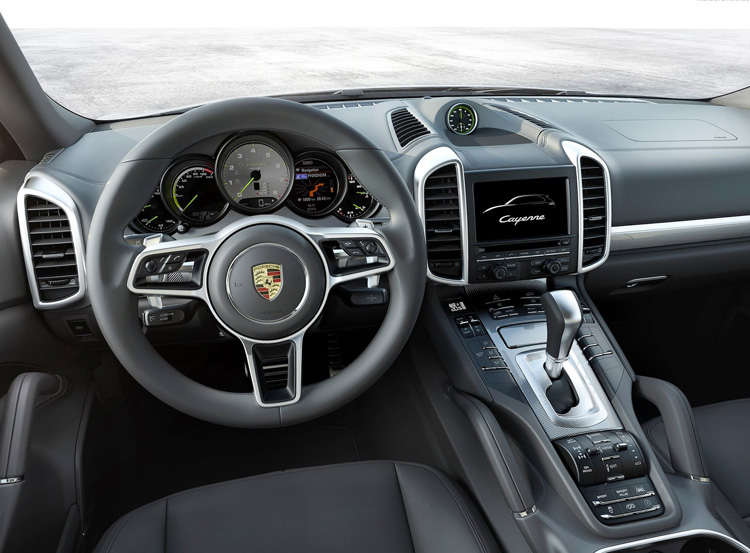 The new Cayenne models will launch in the US market starting November 1, 2014, in four different versions – the Cayenne Diesel with a 3.0-liter turbocharged V6, the Cayenne S with a 3.6-liter twin-turbo V6, the Cayenne Turbo powered by a 520 horsepower V8 that reaches 173 mph, and the Cayenne S E-Hybrid. Sticker prices are expected to range from $61,000 USD to $114,000 USD.
all images courtesy of PORSCHE