Japanese architect Junya Ishigami has completed the 2019 Serpentine Pavilion, a rocky structure he describes as a "hill made out of rocks". "A stone creates a landscape, and a landscape usually sits outside of a building. I wanted to create the landscape inside the building, as a theory of the landscape that the stone creates outside," said Ishigami. "In that sense, I tried to create this landscape that exists outside, inside the building itself."
Ishigami's design takes inspiration from roofs, the most common architectural feature used around the world. The design of the 2019 Serpentine Pavilion is made by arranging slates to create a single canopy roof that appears to emerge from the ground of the surrounding Park.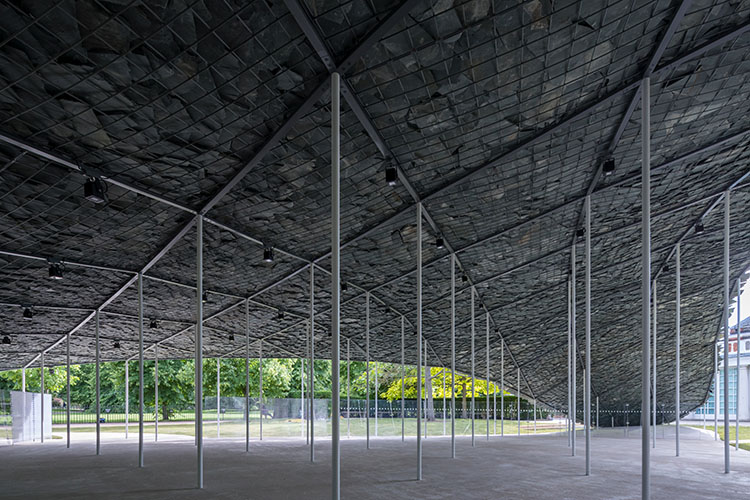 Within, the interior of the Pavilion is an enclosed cave-like space, a refuge for contemplation. For Ishigami, the Pavilion articulates his 'free space' philosophy in which he seeks harmony between man-made structures and those that already exist in nature. 
"My design for the Pavilion plays with our perspectives of the built environment against the backdrop of a natural landscape, emphasizing a natural and organic feel emphasizing it had grown out of the lawn, resembling a hill made out of rocks," says Ishigami. "This is an attempt to supplement traditional architecture with modern methodologies and concepts, to create in this place an expanse of scenery like never seen before. Possessing the weighty presence of slate roofs seen around the world, and simultaneously appearing so light it could blow away in the breeze, the cluster of scattered rock levitates, like a billowing piece of fabric."
He is the nineteenth architect to accept the invitation to design a temporary Pavilion on the Serpentine Gallery's lawn in Kensington Gardens. This pioneering commission, which began in 2000 with Zaha Hadid, has presented the first UK structures by some of the biggest names in international architecture. In recent years it has grown into a highly-anticipated showcase for emerging talent, from Frida Escobedo of Mexico to Francis Kéré of Burkina Faso and Bjarke Ingels of Denmark, whose 2016 Pavilion was the most visited architectural and design exhibition in the world. 
2019 Serpentine Pavilion is officially open to the public from 21 June to 6 October. It will host a program of events through the summer, after which it will be sold and moved to a new home.