For the first time in 55 years, Ford is expanding the Mustang family, bringing the famous pony into the electric age with Mustang Mach-E, an all-new, all-electric SUV. Using Ford's new all-electric architecture that places batteries inside the underbody, Ford engineers and designers were able to create a vehicle that's not only true to Mustang but also maximizes SUV space for five passengers and cargo.
The Mach-E is instantly recognizable as a Mustang, thanks to signature elements such as its long, powerful hood, rear haunch design, aggressive headlights and trademark tri-bar taillamps.
Along with its all-new propulsion system, the Mach-E holds another surprise under its hood – a drainable front trunk storage unit. Providing 4.8 cubic feet of storage space, the front trunk is large enough to comfortably store the equivalent of a carryon luggage bag. And because it's drainable, customers can easily pack it full of ice and keep their favorite beverages cold – perfect for that pre-game tailgate or trip to the beach.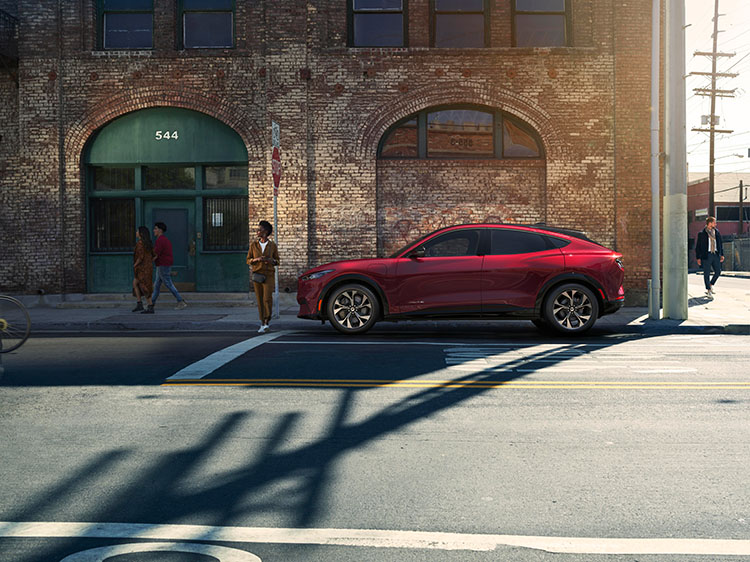 To truly take advantage of the extra space provided by electrification, Ford designers worked extensively with customers to understand how they would prefer to use the interior of their vehicles. Designed with SUV-size proportions to seat five adults comfortably, the Mach-E leaves plenty of space for friends, kids and cargo.
In addition to the exterior front trunk, the rear trunk offers 29 cubic feet of space. With the rear seats down, the Mach-E boasts 59.6 cubic feet of space – more than enough room for luggage, camping gear or whatever else you may want to move around.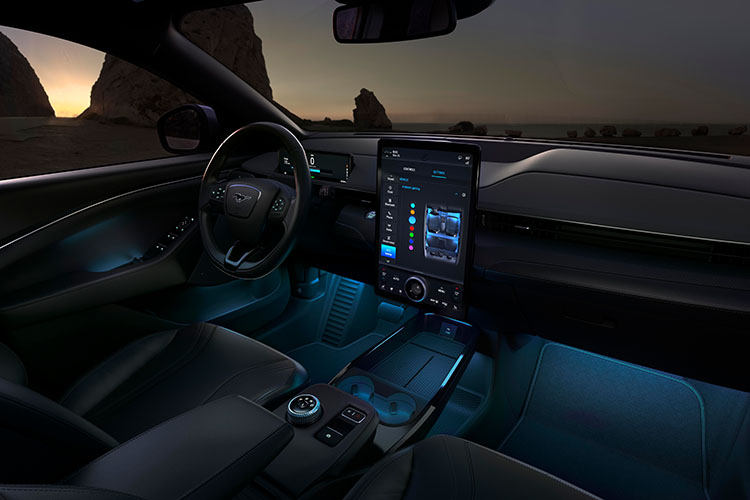 Everywhere inside, the Mach-E represents a fusion of sleek, modern design and smart functionality. Premium available Bang & Olufsen speakers are seamlessly integrated across the front, floating above the air vents like a sound bar. A floating flip-up armrest doubles as a place to store purses or bags.
Even the available panoramic fixed-glass roof has a secret – a special glass coating with infrared protection helps the interior stay cooler in the summer and warmer in the winter. In addition, an inner layer between the glass helps protect against UV rays.
When it arrives in late 2020, Mustang Mach-E will be available with standard and extended-range battery options with either rear-wheel drive or all-wheel drive powered by permanent magnet motors. Equipped with an extended-range battery and rear-wheel drive, Mach-E has a targeted EPA-estimated range of at least 300 miles. In extended-range all-wheel-drive configurations, Mach-E is targeting 332 horsepower and 417 lb.-ft. of torque2 – with the standard all-wheel-drive variation targeting quicker times to 60 mph than the base Porsche Macan series.
Ford also will offer two special performance versions. The GT is targeting 0-60 mph in under 4 seconds2, making it faster off the line than a Porsche Macan Turbo. The GT Performance Edition, meanwhile, is targeting a comparable 0-60 mph in the mid-3-second range to a Porsche 911 GTS. Both GT configurations are targeting an estimated 342 kW (459 horsepower) and 830 Nm (612 lb.-ft.) of torque.
Customers can now visit the Mustang Mach-E reservation site to make a $500 reservation deposit. A limited First Edition will be available in extended-range all-wheel drive, with red-painted brake calipers, metallic pedal covers, contrasting seat stitching and a scuff plate marked First Edition. Those looking for the thrill of the Mach-E GT can make reservations now for deliveries starting in spring 2021.