Spread across five tunnels under the Waterloo Station in London, the House of Vans is a new mixed use creative venue for Vans enthusiasts and those interested in skateboarding culture. The new venue designed by Pete Hellicar and Tim Greatrex, together with Balck Sparrow Presents, includes an art gallery, 'Vans labs' creative spaces, screening room, live music for 850 people, a premium café, numerous bars and a three tier indoor concrete skate park. It is the largest permanent venture by Vans globally and the first European edition of the House of Vans, following the first in Brooklyn NY back in 2010.
The House of Vans London sits within the 150 year old brick arches of the railway lines heading out of Waterloo station and next to London's famous graffiti street, Leake Street. The site was previously used by the Old Vic Theatre.
The requirement from Vans was to provide a cultural hub for skateboarding, art, film and music. Utilising the layout of the tunnels, the site was delineated into the four main functions of the brief so that each were housed within a specific tunnel. They were separated into the following: a tunnel for art – a gallery with artist's labs to create and display art exhibitions; a tunnel for film – a cinema and screening room; a tunnel for music – an 850 capacity gig venue; and a tunnel for skateboarding – a skatepark for all levels of skateboarding ability.
The five separate tunnels of the site are unified with the large and impressive rubber floor. The iconic sole of the Vans shoe inspired the layout of the hexagon and diamond pattern, with the strip of hexagons of the sole made to align with an enfilade of arches to delineate a main axis and corridor through the Venue. The rubber floor provides a clean and comfortable surface but at the same time visually creates a strong contrast to the raw and textured brick walls and vaulted ceiling.
Long linear strips of warm light were used throughout the tunnels, positioned at the intersection of the brick wall and the beginning of the brick arch, to graze the brickwork to create a dramatic cathedral like space.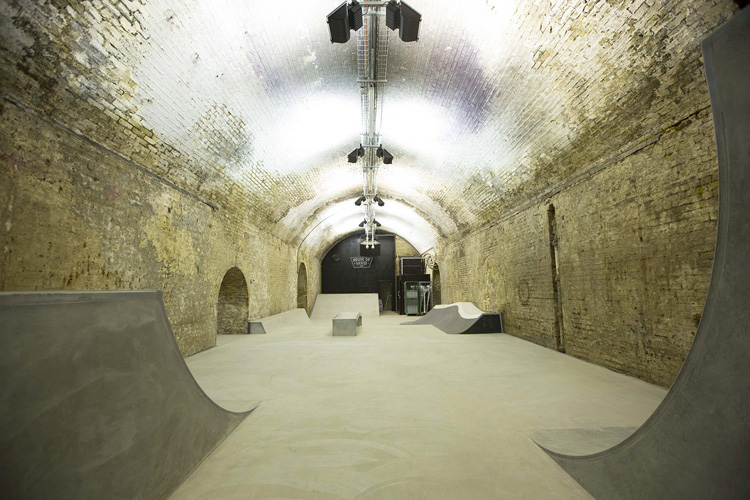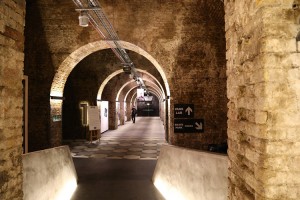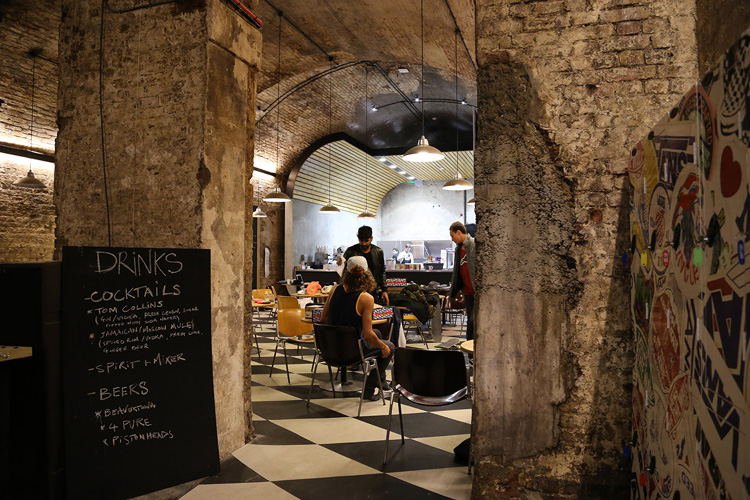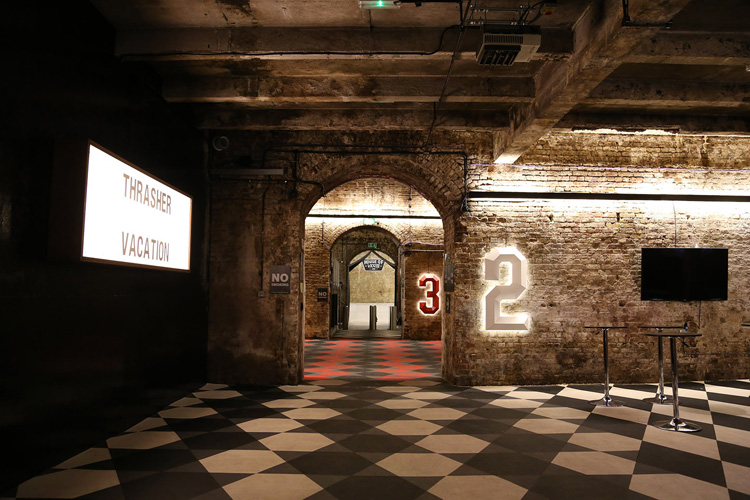 all images courtesy of TIM GREATREX