Mercedes-Benz has officially debuted its much-anticipated Mercedes-AMG GT R. The new AMG GT R boasts more motorsport technology than any other production vehicle on the planet. The front-mid-engine concept with transaxle, the twin-turbo V-8 engine that cranks out 585 horsepower, the extensively modified suspension, the new aerodynamics, and the intelligent lightweight construction all come together to lay the framework for an otherworldly driving experience.
Featuring pioneering technologies, the AMG GT R was designed with racetrack use firmly in mind. Its development was largely based on vast motor-racing experience in AMG GT3 customer sport and the German Touring Car Masters. Figures such as 3.6 seconds from zero to 62 mph and a top speed of 197 mph, combined with the outstanding driving dynamics, will undoubtedly translate into extremely fast laps on the racetrack. The new exclusive colour "AMG green hell magno" alone establishes a visual link to the "Green Hell", the nickname for the legendary "North Loop" of the Nurburgring, emphasising that the car's roots are firmly embedded in the racetrack.
The design of the AMG GT R embodies sensuous clarity – hot & cool. Apart from the powerfully sculpted body and the motorsport components, the new AMG Panamericana grille is a real eye-catcher. This unique feature also comes from the world of motorsport and is celebrating its standard-production première in the AMG GT R: Its 15 chrome-plated vertical fins cite the look of the new AMG GT3 racing car. The basic form of the new radiator grille goes back to the Mercedes‑Benz 300 SL racing car that won the legendary Panamericana road race in Mexico in 1952.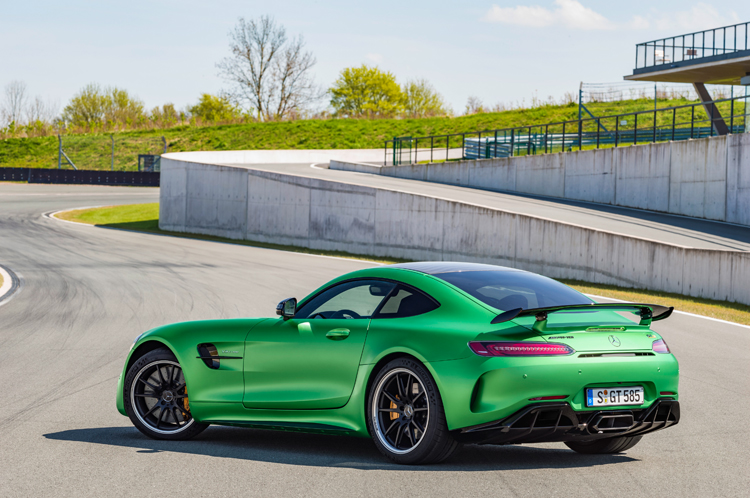 all images © Daimler AG