Located on the King's Road, in Chelsea, London, the new Aesop Duke of York Square is designed by New York-based firm Snøhetta as a tribute to Brazilian modernist Oscar Niemeyer. The result is an interior characterized by classic architypes, a pale red color palette, and stainless-steel elements.
An existing column is used as the starting point for the store's layout. From this centralized column, 12 arches stretch towards the perimeter walls. This series of arches function as a key element in creating a sense of organizational hierarchy, establishing visual separators within the space. The arches are clad in a clay-based plaster with a subtle gradient color, ranging from a lighter base to a darker shade. Illumination from between the arches further emphasizes the gradient effect.
Expanding out from the centralized column, a sink in a circular shape establishes itself as the natural meeting point of the store. The sink, which is an integral part of all Aesop's stores, appears as a hovering water mirror reflecting the light and colors of the ceiling. Made from polished stainless steel and glass fiber, the sink becomes a focal element, while simultaneously allowing for an optimized flow of people within the space.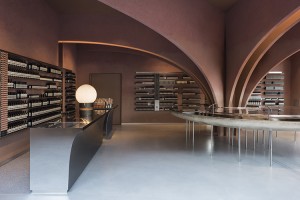 The walls, ceiling, and arches are clad in a pink-pigmented clay based plaster, giving the space a royal rose-color. The clay plaster is delivered by Clayworks, and sourced from South West counties of England. This simple and clear color palette is contrasted by extensive use of steel in the other custom elements of the store. The contrasts created by the rough surfaces of the walls against the soft, polished expression of the clear stainless-steel shapes, the play with color gradients, as well as the changes in light throughout the space, all underline a sense of depth to the design. Combined with the traditional arches and futuristic elements such as the sink, the design aims to trigger customer's sense of curiosity.
Aesop Duke of York Square is the seventh Aesop store designed by Snøhetta. Other stores include Aesop Prinsens Gate (Oslo), Aesop Homansbyen (Oslo), Aesop Grabenstraße (Düsseldorf), Aesop Fasanenstraße (Berlin), Aesop ION (Singapore), and Aesop Raffles City (Singapore).
all images © Paola Pansini