As part of his new exhibition at the German Museum of Kirchheim Unter Teck, British artist Alex Chinneck has tied a 450-year-old column into a vast knot.
The knots are Chinneck's first indoor sculptures in five years and follow a succession of outdoor projects that include a 35-meter inverted electricity pylon, a melting house constructed from 7,500 wax bricks, and a hovering stone building for London's Covent Garden Piazza.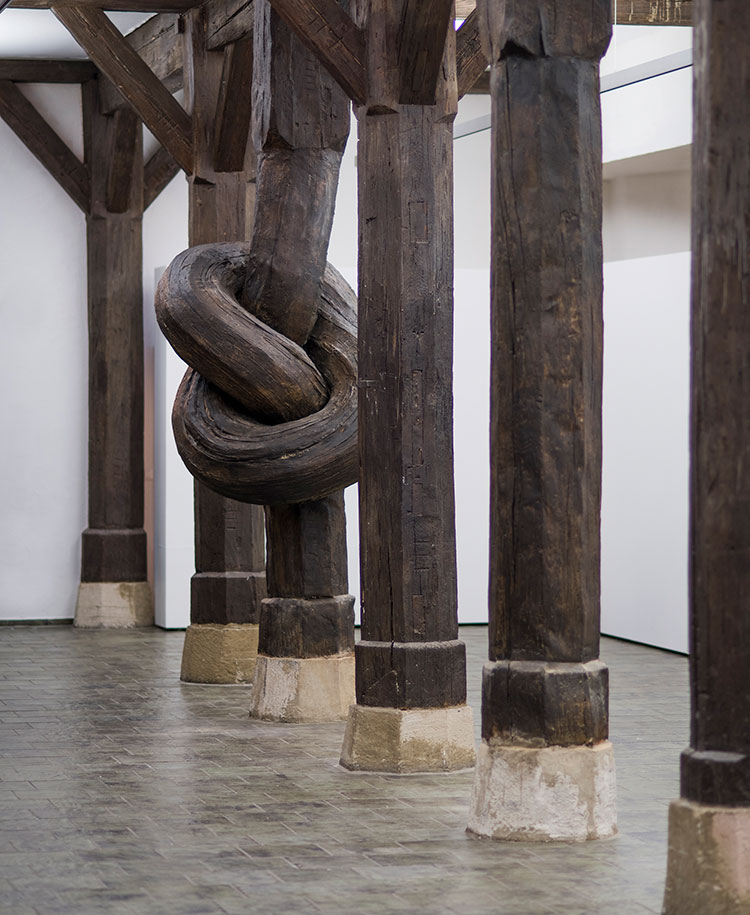 The artist also introduced a straight column, in addition to the knotted pillar, to give the intervention symmetry. Both are materially indistinguishable from the historic pillars that they mimic.
"I like to give fluidity to typically inflexible things, transcending their material nature," said Alex Chinneck about the artwork. "The columns are the prominent feature in the 450-year-old museum and this intervention took an opportunity to defy logic and distort history."
"I wanted to create the impression that we had only changed what was already physically present in the museum and the work was born through the manipulation, rather than introduction, of material," adds  Chinneck. "With this approach, the objective was to produce something sculpturally bold but contextually sensitive."

Accompanying work includes a wooden broom leaning against the wall, also knotted. The exhibition is now open and runs until 8 April 2018.
The artist is currently delivering one of the most ambitious public artworks in the UK. Titled Onwards & Upwards, a series of five red brick chimneys with a collective height of 152 metres will border, bridge and illuminate one-mile of canal linking Sheffield and Rotherham. This series of monumental sculptures includes a chimney, constructed form over 20,000 bespoke bricks, tied in a knot.
all images © Charles Emerson