Designed by Helsinki-based Studio Puisto, the newly opened Arctic Treehouse Hotel is located in Finnish Lapland's Arctic Circle next to Rovaniemi's SantaPark Arctic World, a Christmas themed family adventure park where little ones and parents can meet Santa.
The warm interiors of the Arctic Treehouse Hotel are lined in blond timber and oiled oak parquet floors, and furnished with low-slung wire chairs swathed in fur and a blizzard of white linen. The bedrooms are framed by large windows and have views of the forest which, in summer, is festooned with lingonberries and cloudberries bushes.
The accommodation units have been built indoors, down to the internal surfaces and fixe furniture and lifted on the pillars straight from the truck. This way, the strain on the fragile arctic nature will be kept to a minimum. Only the connecting to the infrastructure network and the installation of the big window have been done on site.
The main building of the Arctic Treehouse Hotel stands on a steep hillside and appears to merge with the surrounding nature. It turns its back on the slope and stretches out into the landscape with its fingers. The vegetation between the fingers grows close to the building, forcing it to engage in  dialogue with the surrounding Arctic environment.
There are terrace spaces at the end of the fingers of the restaurant area, with a lac structure acting as an informal boundary between people and the surrounding nature, an to cast interesting shadows on the surrounding environment.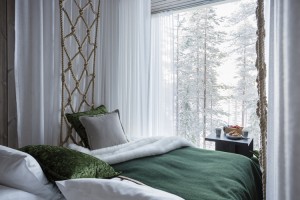 all images © Marc Goodwin