Audi has unveiled the new Q8 Sport Concept at this year's Geneva Motor Show that previews the brand's upcoming flagship SUV, dropping the massive maw of the concept shown in Detroit.
During the American motor show in January, it was painted blue with a 3.0-litre turbo V6 and electric motor hybrid-pairing, developing a total of 444 bhp. The Q8 Sport Concept's engine is boosted to 444 bhp alone, while its electric power offers an extra 125lb ft of torque, helping the it accelerate from 0 – 62 mph in a blistering 4.7 seconds – that corresponds to 0.7 seconds quicker than its predecessor, and almost as quick as 'TT' sports cars.
At 5.02 metres long, the AUDI Q8 Sport Concept makes an impressive mark on the luxury SUV class. Viewed from the front the Q8 Sport Concep looks imposing with its octagonal singleframe grille. This sculpted piece is significantly wider than today's AUDI production model, with a honeycomb lattice structure overlayed with aluminum segment. the outer air inlets are much larger compared with the basic model – a sign of the greater air requirements of the high-performance power unit.
The flat, wedge-shaped headlights of the concept vehicle are integrated into the front end and, from a design perspective, are connected with the adjoining air inlets. The individual light elements have a glass cover, but the entire headlight units are not enclosed, creating the impression that they are floating. Their aluminum housing carries over the sculpture of the singleframe.
A long roof edge spoiler shades the extremely flat rear window of the Audi concept car. A doubly-shaped spoiler lip below it forms a distinctive contour on the power luggage compartment hatch. The light strip extending over the entire width of the rear end is part of the distinctive light signature. It serves as both the tail and brake lights as well as the dynamic turn signals.
The architecture of the drive system in the AUDI Q8 Sport Concept is revolutionary: for the first time, the german-automaker combins a 450 ps 3.0 TFSi six-cylinder engine with an electric powered compressor, and an effective mild hybrid system for recuperation. The starter generator positioned between the crankshaft and the transmission handles recuperation and, if required, can work in the opposite direction as an additional electric motor. Rhe 48-volt electrical system assures the supply of electrical power. this unique combination allows it to travel over 740 miles without the need for a break, while reducing CO2 emissions by 25 g/km.
The AUDI Q8 Sport Concept can boost, coast and recuperate as appropriate for the situation. The predictive efficiency assistant is a standard feature which supports the driver by supplying detailed information on vehicle surroundings to the control unit. route data from the navigation system and car-to-X services from AUDI connect are also taken into account.
 https://www.youtube.com/watch?v=A1oQJo1AZ5o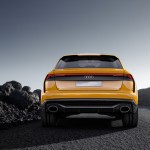 all images courtesy of Audi