In the city of Da Nang in the central coast of Vietnam, Vo Trong Nghia architects have designed a multi-storey hotel building as part of the first phase of the Naman Retreat Resort's development. The concept of resort is providing physical and mental treatment for the long stay guests by the nature friendly environment and healthy activities such as spa (read our coverage about the recently opened Naman Pure Spa by MIA Design Studio), yoga, beach sports and so on. To achieve a perfect atmosphere that enable the guests a maximum body and mind purification and relaxation, the resort was designed by harmonious mix of greenery, natural stone and bamboo. 
The multistory hotel building, named the Babylon having a façade combines concrete louvers with greenery interspersed, is visually interesting landmark from direction of the sea coast.
The building consists of 3 floors with 32 rooms. The layout is arranged in an L-shape embracing the swimming pool. Balconies overlooking the pool attract to water activities while still remain discreet and allow a private relaxation behind the green facade. The pool is both opened and discreet which is suitable for guests who enjoy relaxing in semi-private atmosphere that is totally immersed in the wonderful nature.
Plants are present everywhere. The greenery has been planted in each and every space of the resort, contributing to bring nature into resort's landscape. When guests approach the Babylon, they may feel like diving into a tropical nature through the green facade and corridor. Even from the bathroom, it is possible to capture plants through their balcony.
The green façade consists of combination of trees and vines such as: Quisqualis indica climbing along the concrete louver, Vernonia elliptica, Spathiphyllum wallisii and Aglaia duperreana are planted along the corridors and balconies. The combination creates diversity of the vertical landscape.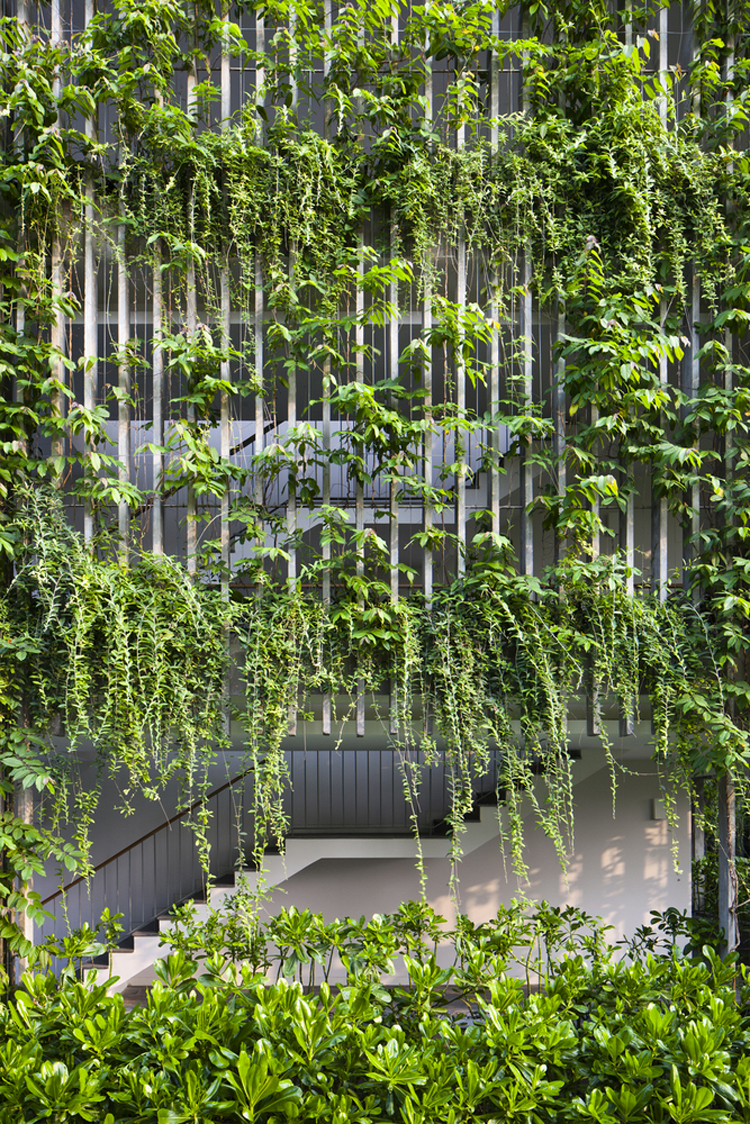 all images © Hiroyuki Oki