APPAREIL Architecture rose to the challenge of redesigning the Bar St-Denis in the image of its new owners, the chefs David Gauthier and Emily Homsy, previously of Montréal Plaza and the Pied de Cochon. Inspired by the aesthetics of "gentlemen clubs", the Bar St-Denis proposes an inviting atmosphere where sharing plates and wine take center stage. In the image of its Petite-Patrie neighborhood, the space offers an ambiance that is both refined and welcoming.
The bet was an ambitious one, as the space had already acted as a bar for many years. Wishing to distinguish itself from the former institution, the APPAREIL Architecture team relied on the use of materials such as marble and wood, which lend the bar its character. Particular attention was given tothe space's layout, to favour a closeness between staff and clients.
Visible through its large windows on St-Denis street, the focal point of this project is a huge, entirely bespoke, luminous ceiling inspired by art-deco. This distinctive element bathes the space in a sweeping light and creates a singular atmosphere. Beneath this textured lighting, long curves throughout the space form benches and large tables, conducive to sharing.
These are surrounded by the Floe stools which, through the delicacy of their white structure, allow the space to feel both inhabited and clean. The owners, two experienced chefs, understood the kitchen's importance as a convening element with a choice place in the design. The removal of partitions from this workspace lends it a welcoming touch, and allows clients to gaze upon the dishes being prepared.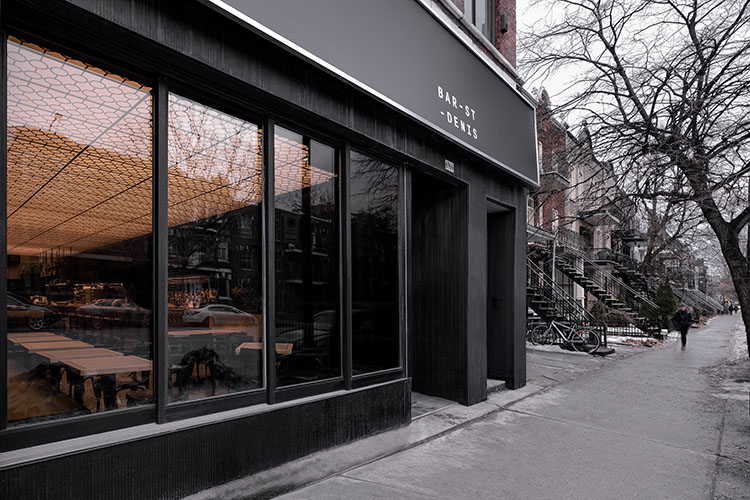 To balance the bar's narrow shape, it was separated into many sub-sections, allowing for 70 seated places to be offered. The space is inhabited by noble materials, infusing character and warmth into the project. Beneath a canvas of black bricks, textured terracotta slats contrast with the smooth brass elements dressing the bar.
Touches of ash wood and green marble create an atypical composition, wherein noble materials are skillfully balanced with wood's relaxed nature. In contrast with this, the bathroom transports clients into a completely monochrome universe. Painted entirely in pink, the glossy ceramics harmonize with textured slats that harken back to the bar.
APPAREIL worked closely with local craftsmen to devise a bespoke environment in which all elements were designed to create a unique atmosphere. Through this process, the Bar St-Denis now offers the neighborhood's residents a new venue that is both timeless and informal.