If you're new to the art world, the prospect of attending art auctions can be daunting. What should you wear? What are the etiquette rules? How do you know what to bid on? 
Don't worry – we've got you covered! In this article, we'll talk about everything you need to know before attending your first art auction. We'll give you tips on preparing, what to look for when bidding, and how to behave during the event. 
So, if you're thinking of attending your first art auction, here are a few tips from an expert to help you navigate the experience.
1. Do your research before the auction
Know what you're interested in and what the average prices are for similar pieces. This will help you set a budget and avoid overspending.
You must do your research before attending an art auction. Look at the auction house's website or catalog to get an idea of what will be up for sale, and read up on any artists whose work you're unfamiliar with. You can also ask friends or colleagues familiar with the art world for advice.
Once you have a general understanding of the market, start setting your budget. Keep in mind that most auctions require buyers to pay a premium on top of the hammer price (the final sale price).
How do you research an art auction before the event?
There are a few key things to do to research an art auction before the event. Firstly, review the auction house's website and catalog. This will give you a general overview of the pieces that will be up for sale. Next, research each artist or work of art. The best place to start is the ArtCyclopedia which contains information on artists from all over the world. Finally, examine past auction prices for similar pieces. This will give you a sense of how much each work is likely to sell for at auction.
2. Attend the preview day
If the auction house hosts a preview event before the actual auction, make sure to go. This is a fantastic opportunity to see everything that's up for sale and get a sense of what prices you might be comfortable paying. You can also use this time to ask the auction house staff any questions you might have about the process.
What should you expect at an art auction preview day?
Generally, auction preview days are a chance for bidders to inspect the items that will be up for auction. However, at more prestigious auctions houses, preview days may also include a sale of lower-priced items.
You can usually expect to see a wide range of objects at an art auction preview day, from paintings and sculptures to furniture and decorative arts. It's worth taking time to examine each item closely to get a sense of its condition and how much restoration it may need. You should also consider the estimated value of the item and whether it's likely to sell for more or less than that value.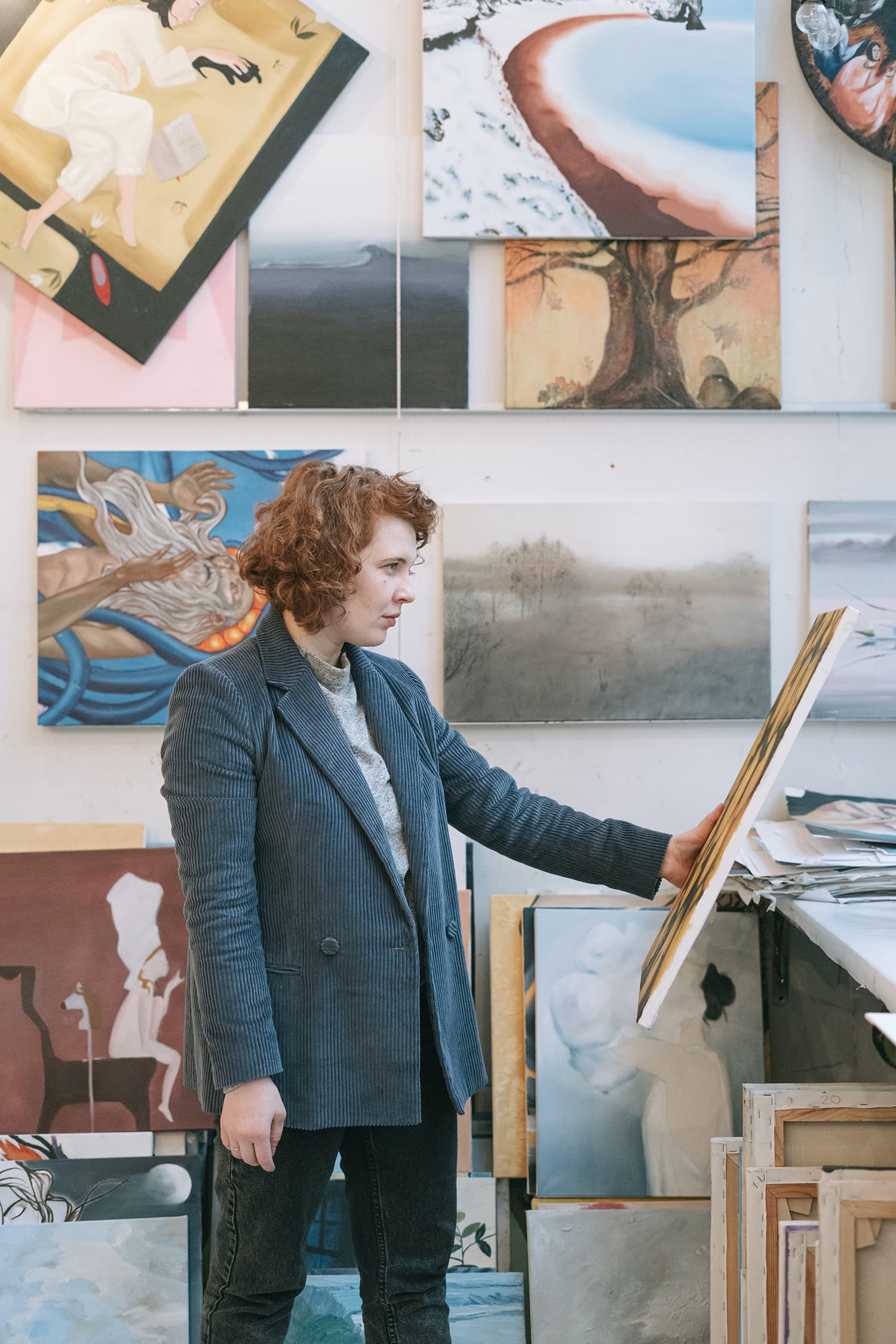 3. Who is bidding and how high are they willing to go?
A bidding war can break out at any time if multiple buyers are interested in a piece of art. If you see someone bidding against you, pay attention to how much they're willing to spend. You don't want to get caught up in a bidding war and end up paying more than you're comfortable with.
What is the bidding process at an art auction?
Generally speaking, the bidding process at an art auction is as follows: 
The auctioneer will open the sale by announcing the starting price for the first lot.

 

Bidders can then raise their paddle to signal that they are interested in bidding on that lot.

 

The auctioneer will then go back and forth between the different bidders, incrementally increasing the bid price until only one bidder remains.

 

That bidder is then declared the winner of that lot and is responsible for paying the final bid price.

 
Of course, there are variations on this basic process depending on the particular auction house or sale event, but this is generally how it works.
4. Don't be afraid to ask questions
The auction staff is there to help you! You may be an art auction novice – but there's no excuse to be ignorant. 
If you're not sure about something, ask a question. It's better to be safe than sorry (and potentially make an expensive mistake).
After all, an art auction is not like buying a painting from a gallery – it's a complex process with its own set of rules.
5. Have fun! It should be an enjoyable experience, not a stressful one
Your first time at an art auction can be as exciting as it is daunting. With a little preparation (and these tips), you'll be ready to take on the auction world like a pro.
Try to avoid these three beginner mistakes when attending an art auction for the first time
Not paying attention: Once you've made a bid, make sure you keep tabs on the item so you don't accidentally let it slip away from you.
Don't bid on anything you don't know about. It's vital to research what you plan to bid on and what the estimated value is.
Avoid bidding against others who are more knowledgeable than you. If you don't know much about the artwork or the artist, it might be best to let someone else take the lead.
Don't forget to enjoy the experience and learn from it too! If art is your new thing, you could become a regular at such events in the future.
One final tip: have a backup plan. If you want to win an item, be prepared to spend more than you originally budgeted. It's happened to the best of us!
Now that you know these tips for navigating an art auction for the first time, you can feel confident about participating in this type of event.
We hope these tips help and good luck at your first art auction! Happy bidding!
Do you have any other tips for first-time art auction attendees? Share them with us in the comments below!