BECYCLE is the first Boutique Fitness Studio in Berlin, Europe's clubbing capital, to offer "high energy" spinning classes with hi-tech bikes and a nightclub atmosphere featuring music from live DJs.
Rather than settling for mass-market anonymity, BECYCLE focuses on nurturing its unique identity and providing personal customer service. The studio is a space for kindred spirits who share a healthy, urban lifestyle and have highly developed aesthetic expectations.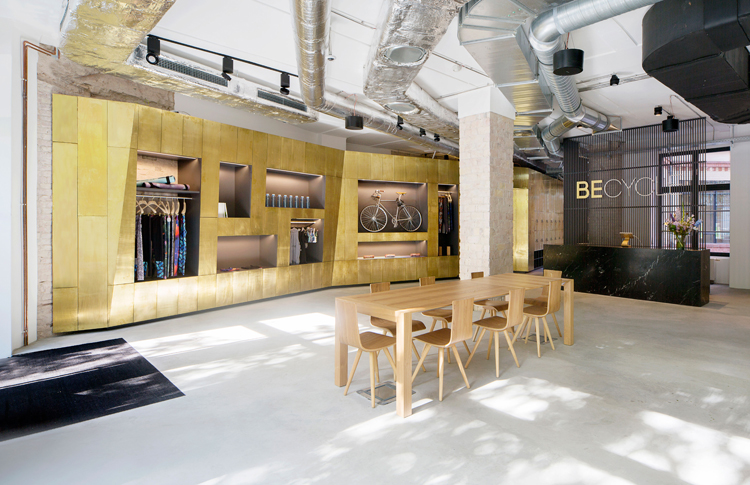 BECYCLE is based on a holistic approach that offers an optimal blend of features to cater to the lifestyle requirements of contemporary city dwellers, with opportunities to test their physical limits or unwind, experience a nightclub ambience or therapeutic, tranquil surroundings, and take advantage of the studio's co-working, shopping and chill-out zones.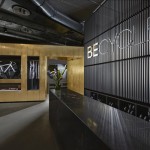 Guests arrive at a reception reminiscent of a hotel welcome desk. Once there, they can relax with healthy smoothies and snacks in the integrated bar or lounge, enjoy browsing for cool sportswear in the shopping area, and even find a place to get things done in the co-working zone. The Ride Studio itself is like a nightclub complete with its very own light show. In contrast, the Yoga Studio is a bright, minimalist room whose peaceful atmosphere ensures a sense of harmony and balance.
BECYCLE's centrepiece is a complex geometric structure made from a variety of different panels with a surface of genuine brushed brass. This assembly establishes a dazzling, independent, dynamic spatial configuration that contrasts with the building's existing exposed architecture and raw brickwork to create a space where heritage meets the cutting edge. The structure begins at the entrance to the studio, where it acts as a "retail wall" with sporting goods and accessories displayed in niches of various sizes. Moving towards the centre of the studio, it expands to form a three-dimensional body that incorporates the entrances to the bathroom facilities and staff rooms. It then transitions via a unit filled with lockers into a module with water coolers before leading the way to the studios.
The vault in the cellar – a relic from the good old days when the building served as a bank – has been converted to house the women's shower facilities. The men get to savour another kind of aquatic experience: their showers are fitted floor-to-ceiling with slate tiles, making the doorways to the individual cubicles look hewn out of a slab of rock.
All in all, BECYCLE is about much more than each person's pure, personal kick. Instead of merely zeroing in on the exercises themselves, it concentrates on pushing the concept of the collective happening to the fore. The interior aesthetics provide an inspiring, inviting setting for this holistic approach to take shape.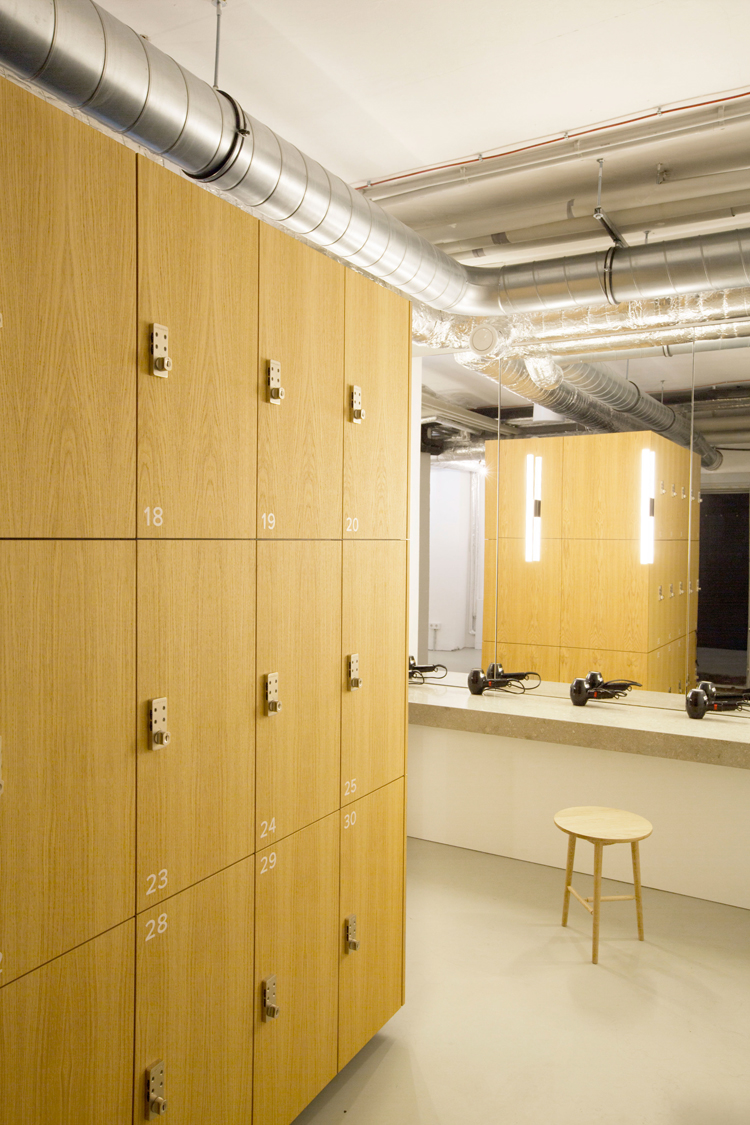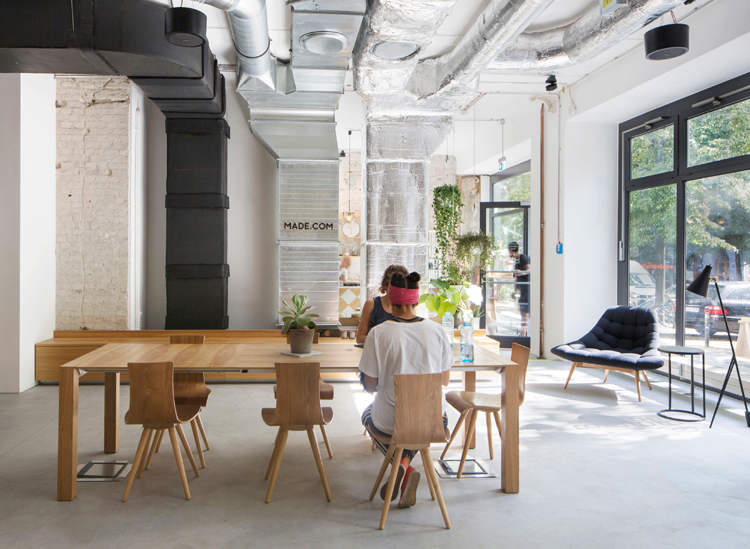 all images © Sven Philipp and Waldemar Salesski