British practice Neil Dusheiko Architects has overhauled an existing two-storey Victorian brick home in Hammersmith, west London, for a young family. The new layout adds a new basement under the footprint of the existing house; providing a home cinema, playroom and a guest bedroom all lit by large light wells and skylights cut into the floors above.
All levels, which contain no existing period features, have been opened out to allow for the existing rooms of the Victorian house to give way to an open plan interior on the ground floor and tall loft like spaces within the bedrooms on the upper floors.
The kitchen and living rooms open out to a south-facing patio, connecting the kitchen and living spaces to the outdoors through a set of completely retractable folding sliding doors. A new polished concrete floor ties kitchen and garden together with long timber boards linking the living and dining rooms.
The conceptual approach deals with ideas of carved monolithic spaces and a paired down material palette creating a calm atmospheric interior. New windows are designed using the same dimensional ratios of the existing Victorian windows yet feature flush glazing allowing the geometry of the curved brick façade to read as a solid wrapped element linking old and new. A large skylight set into the floor at ground level links the basement and ground floor levels visually – allowing for the basement to benefit from daylight penetration from above.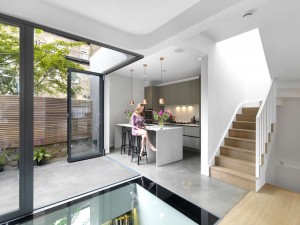 The new extension to the rear links into the old brickwork through a curved wall suspended above the ground on a completely glazed set of folding doors. The bathrooms are top lit by generous skylights linking the bathing spaces to the sky above. The existing ceilings will be removed in the upper floors and roof voids expressed – creating large expanses of vertical space which was previously unused.
The house exudes a sense of calm through the extensive use of natural materials combined with smooth and reflective polished concrete and an abundance of natural light.
all images courtesy of Neil Dusheiko Architects