For the occasion of the 58th International Art Exhibition of the Venice Biennale, Italian artist Lorenzo Quinn unveils his latest work entitled Building Bridges, which is opening to the public on May 10th. Known for his previous installation in 2017, which saw a pair of hands prop up the canals of the famous Italian city, this new, monumental sculpture comprises of six pairs of hands joining across the entrance of the Arsenale, in the Castello District of Venice. 
With each pair representing one of six universally essential values – friendship, wisdom, help, faith, hope and love – the concept behind the project aims to symbolize people overcoming their differences to build a better world together.
The installation, which spans 20 meters in width and 15 meters in height even resembles the famous bridges which characterize the city. "Venice is a world heritage city and it is the city of bridges," says Quinn. "It is the perfect location to spread a message of world unity and peace so that more of us around the world build bridges with others rather than walls and barriers."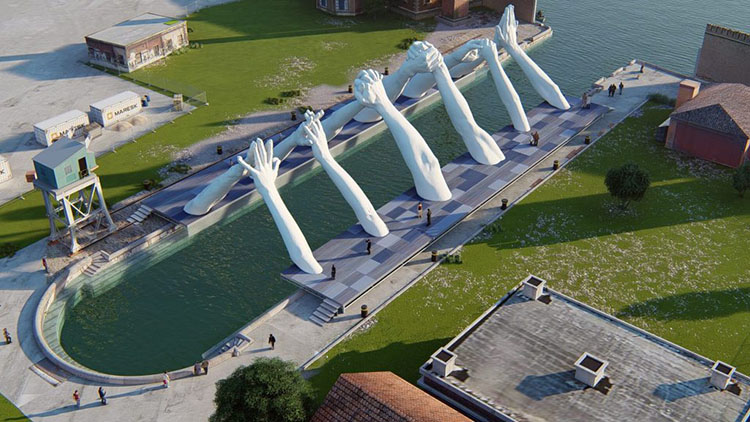 The joining of hands symbolizes our commonality, what we share and our ability to unite with an emphasis on bridging differences in all aspects of life – geographically, spiritually, philosophically, culturally and emotionally. The hands suggest a need for contact beyond self-interest, striving for human collaboration and unity. Quinn uses them to communicate complex emotions through a lexicon of gestures and touch, reflecting an ethos of connection and exchange through the language of art.
By using the Arsenale as a site for installation, the work also draws a connection to the city's history as one of the greatest trading powers in Europe, the Western end of the Silk Road trade route and a huge naval authority. Its position today as a World Heritage City attracting tourists from all nations continues Venice's history as a meeting point of culture, and aligns with Quinn's message of world unity.