Cafe X Technologies debuted a new café in San Francisco in which espresso-based drinks are prepared by a robotic arm. First opened in Hong Kong, the robot-operated 'Cafe X' is now venturing to San Francisco Metreon shopping center with the intention of supplying those in a hurry with a quick and yet perfect cup of coffee.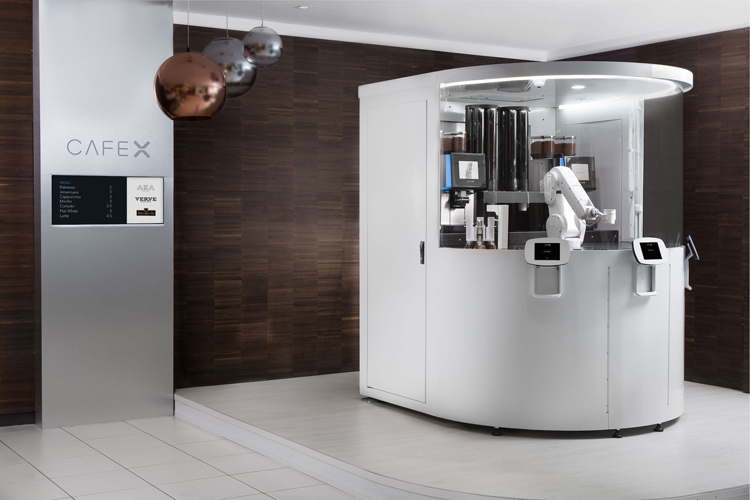 Customers can order customized espresso-based beverages on the spot at the ordering kiosk or they can download the Cafe X app onto their mobile device to order in advance. Once the beverage is ready, customers use the touch screens on the robotic café to type in a 4-digit order number which is either sent via text message or displayed on the Cafe X mobile app for iOS and Android. The Mitsubishi robot arm will then identify the customer's drink from the waiting stations and deliver it to the customer within seconds.
"This won't replace baristas or the coffee shop experience that so many people have come to love – we don't aim to do that," says founder and CEO Henry Hu. "What we're offering is the best possible experience for people who are looking for consistent specialty coffee to-go" 
Customers will be able to purchase espresso based drinks from the first Cafe X location in the U.S. Menu prices start at $2.25 USD for an 8 oz cup and will vary depending on customer's coffee bean selection which includes single origin options. Download the Cafe X app today for free at the iTunes App Store and Google Play Store.
Cafe X launches today in San Francisco! Come by Metreon today to get a taste of the future. Our robotic café makes locally roasted specialty coffee in just seconds.

Pubblicato da Cafe X su Lunedì 30 gennaio 2017
all images and video courtesy of Cafe X Technologies