Portuguese firm Camarim Arquitectos has recently refurbished and extended this bright and minimal apartment in Lisbon, Portugal. The architects client wanted to enlarge his 2-bedroom apartment and so he acquired 2 more apartments in the same building – one above and one on the side – with the aim of joining them as one with more generous and flexible social and intimates spaces.
The apartment on the upper floor had a living room with a small balcony and an attic-shaped larder without natural light or ventilation. A single door connected the attic to the living room and the small-size balcony window rendered the space gloomy and stuffy. The client wanted to convert this apartment to an en suite bedroom with hammam, living room and a small kitchen to allow him to rest, read or work without having to go to the main social space downstairs.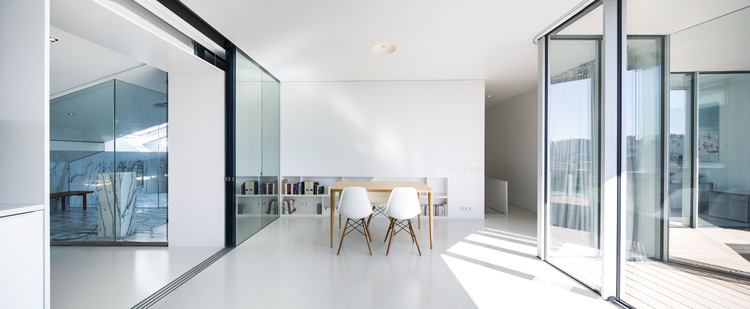 The architects widened the balcony window, opened a large skylight in the attic and tore down the wall between living room and attic: suddenly the gloomy apartment was flooded with light from dawn till sunset. "We wanted the light from the balcony and the skylight to reach every space and so, instead of partitioning the en suite bedroom with corridors and doors, we arranged all spaces in a linear sequence, divided by filters adjusted to each condition: reflective glass, transparent glass, translucent curtains and black-out curtains." explain Vasco Correia and Patrícia Sousa. Each space has its own materiality: synthetic self-levelling floor in the living room, Vila Viçosa marble in the hammam and teak wood in the bedroom.
Natural and artificial light conditions, as well as the actual filters arrangement – open, closed or closed and overlaid – influences their appearance: at different moments the same space may be reflective and opaque or luminous and transparent, finite or blurred with adjacent spaces.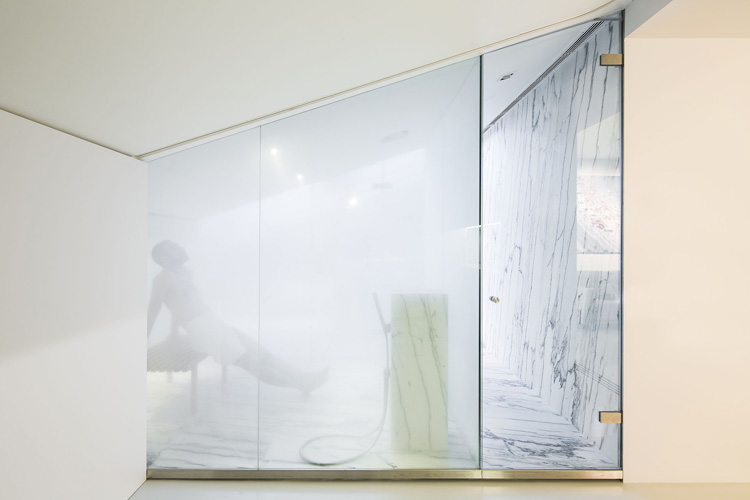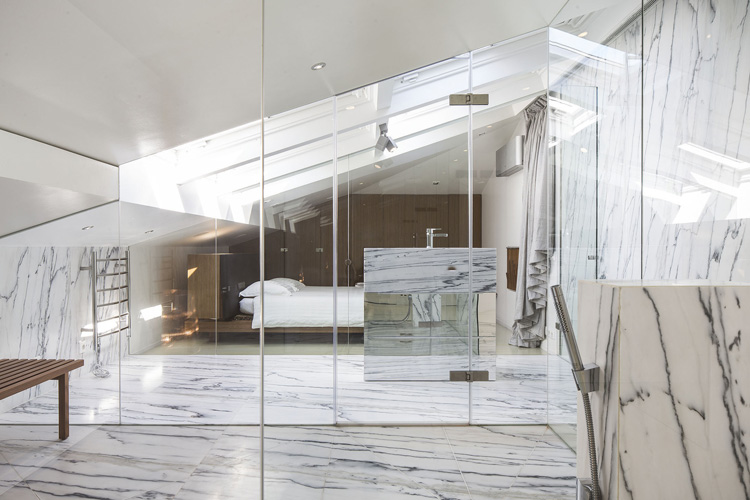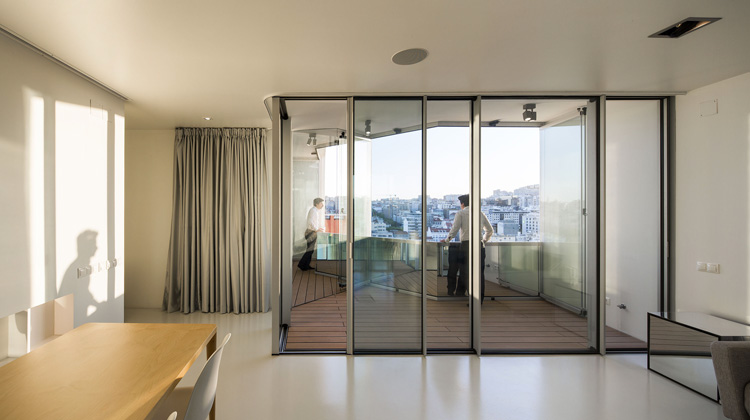 all images © NELSON GARRIDO