Colombo and Serboli Architecture has revamped a Barcelona apartment, previously dark, with a compartmentalised layout, to suit the client needs – a cycling and sports enthusiast. The aim was to create a very masculine yet sophisticated home, using a neutral palette and focusing on different textures.
By the entrance, a system of tubes creates a double bicycle rack. Behind these black structures, grey tiles protect the wall from dirt. These 60x60cm porcelain cladding continues into the kitchen fading to a 30x30cm format, then into the bathroom space getting smaller reaching a 10x10cm format in the shower area. This material gives spatial continuity to surfaces all on one side of the project.
A wide band of rough surface at the top of the wall surrounding the living area unifies and gives character to the space, while hiding lines of diffused led lights above the teal coloured velvet curtains and also along the wall opposite the kitchen, and disguising big reinforcement beams.
The small terrace, that previously had been closed and transformed into bathroom and laundry spaces by blocking one window, has been restored. One of the two windows it's been reopened, the balcony regained, bringing much more light into the living, and the space formerly dedicated to the washing machine became a built in terrace seat.
On the side of it, a square window has been opened, as a way to give direct natural light from behind to the suspended square bathroom mirror. Two twin structures of black tubes, one on each side of the wall, allow plants to climb around the square opening towards the outdoor side, while on the bathroom side suspend the hanging sink mirror.
The grey tiled bathroom (previously a closed kitchen) also features a bespoke freestanding shower glass bulkhead, and matching black faucets. Kitchen is open to the living space, raised on a step just like the bathroom area, and the units are black. Kitchen fan is hidden in the false ceiling drop. A small shelf clad in grey tiles hides an additional light.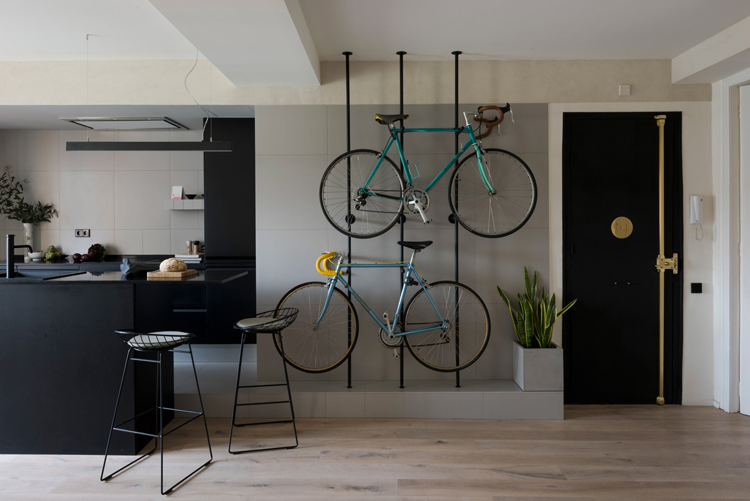 Access to the master and guest bedrooms is through two original double doors with mouldings that were kept in their place and restored. Rooms are are bright and airy, featuring the same natural oak wooden floors of the living area.
In living, furniture pieces by Kettal and Stua give the finishing touches to the space, while plants bring life to it. A big square planter customized by artist Zaida Sabatés with a "terrazzo" effect, just like the dining table golden leg, adds a sophisticated point.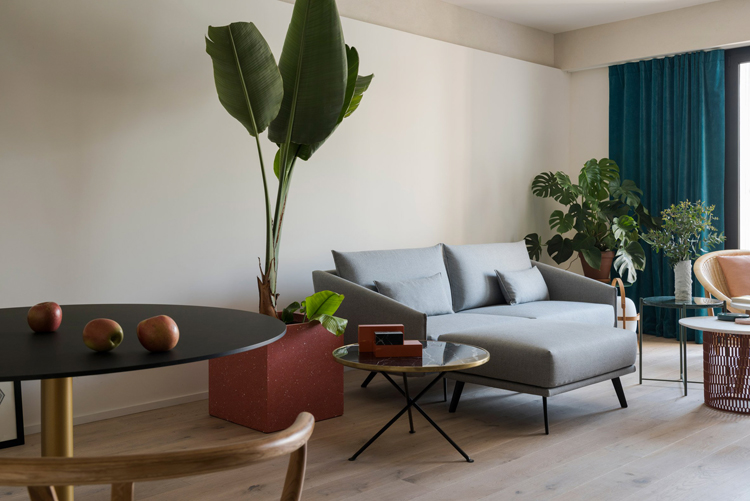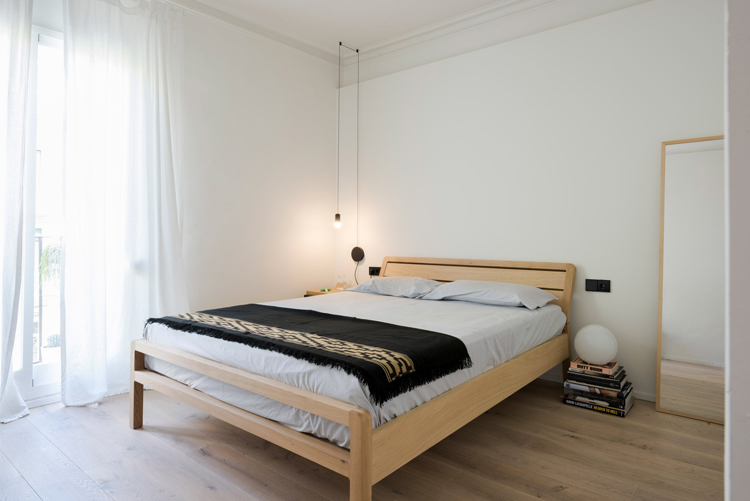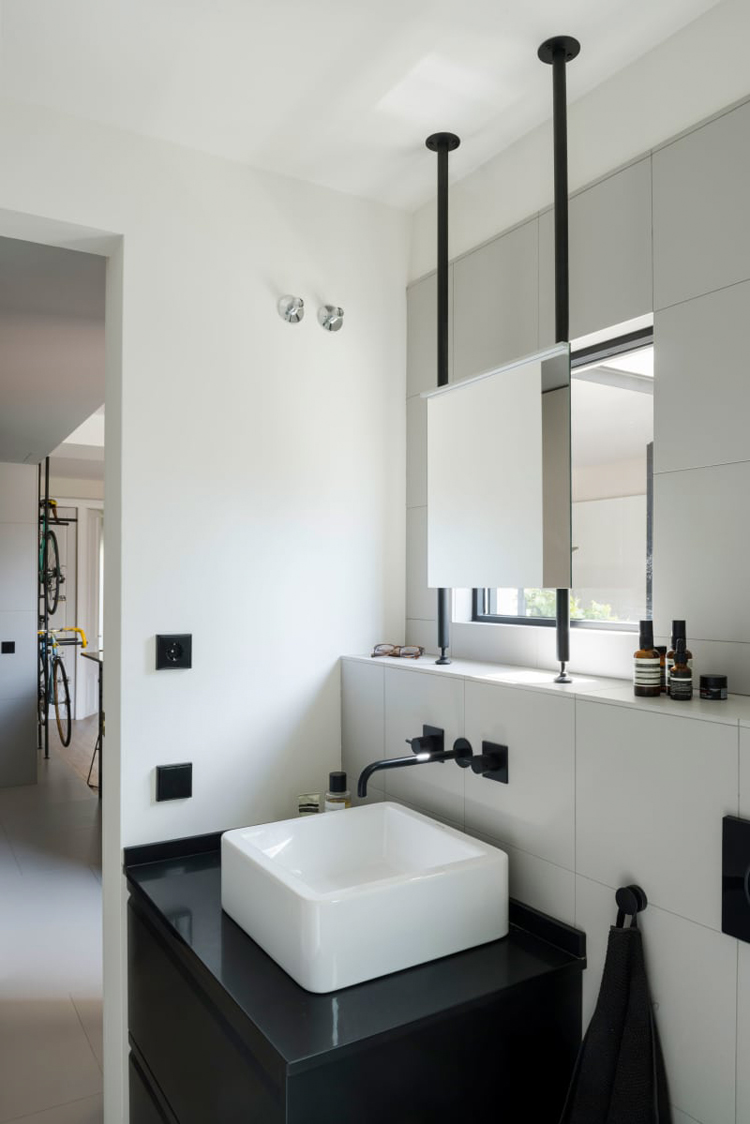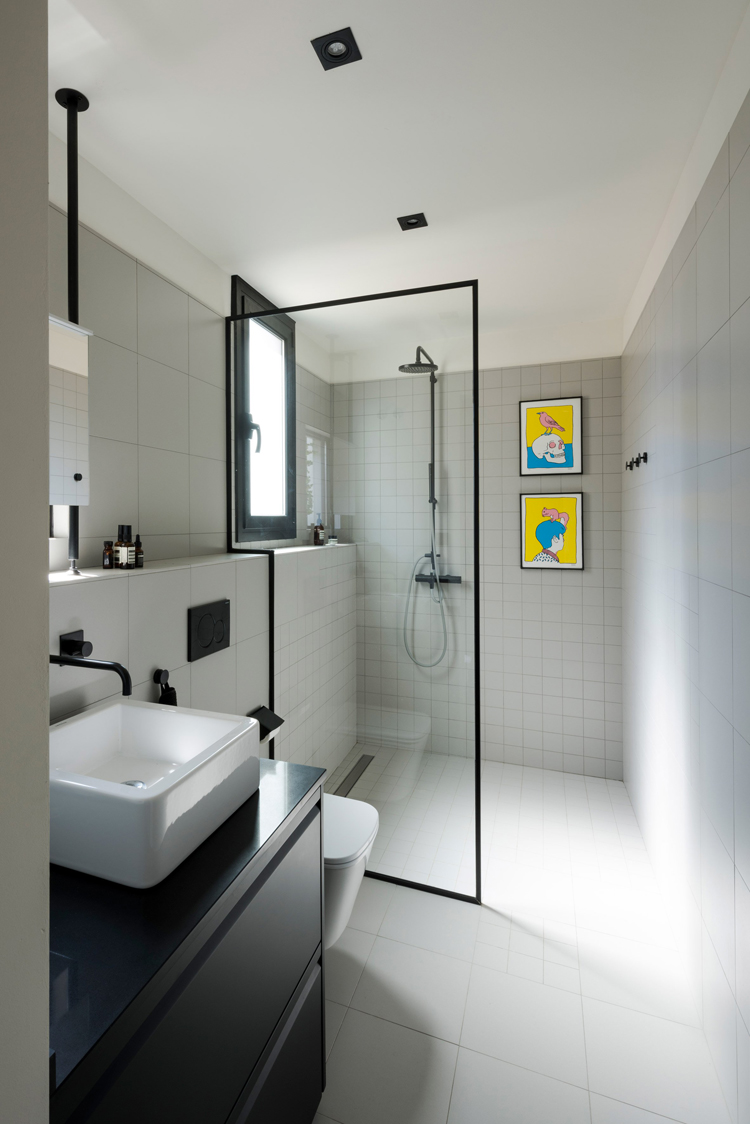 all images © Roberto Ruiz