CityHub opens the doors to its first hotel on the up-and-coming Bellamystraat in Amsterdam's Oud-West district. With 50 state-of-the-art sleeping units, a 'digital first' lobby and an app that familiarises travelers with the city, CityHub has hit the nail on the head when it comes to fulfilling the needs of the travel-savvy Generation Y, enabling them to explore, socialize and share experiences online. And so, Amsterdam will be home to the first 'hotel of the future'.
A new kind of traveler has emerged: 20- to 35-year-old digital natives. For them, 'discovery' is the key: five-star hotels and stereotypical tourists spots don't make them tick; they want to hear about the city's hotspots from people in the know and enjoy a personalized travel experience instead. They are connected 24/7 and expect information on the go: a principle that is not optimally utilized by many traditional hotels. CityHub builds the entire travel experience around these new developments in the travel industry, through a city app, an online chat platform with a personal host, and unique Hubs in which to sleep.
CityHub combines the privacy and comfort of a hotel with the sense of being in a community and the affordability of a hostel. Situated in a 600m2 industrial warehouse, the hotel, designed by Dutch studio Studio Uberdutch, houses 50 sleek private sleeping units called 'Hubs'. Each Hub is equipped with a comfortable double bed, Wi-Fi, and mood lighting and music streaming systems that guests can personalize. The CityHub 'hangout' is a spacious lounge where travelers can get together and, with the use of a personal RFID wristband, can check themselves in and serve themselves at the bar.
During their stay, guests will have exclusive access to the CityHub app: an interactive travel guide that provides tips for activities and events based on what is taking place in Amsterdam that particular week. Travelers can additionally request real-time suggestions from a CityHost as they wander through the city. The app also offers a chat room, allowing guests to connect with each other and share new hotspots that they have found. What's more, the app can be used to control the mood lighting, alarm clock and music streaming within the Hub.
To counteract unwanted data roaming costs and to promote the use of its app, CityHub has joined forces with T-Mobile to offer guests the opportunity to use their own MiFi Hotspot (mobile router) in the city. With this feature, CityHub is able to contribute even more to the ultimate travel experience for the next generation of travelers. Hubs can be booked via cityhub.com, and start at €50 (about $52 USD) per hub (for two persons) per night.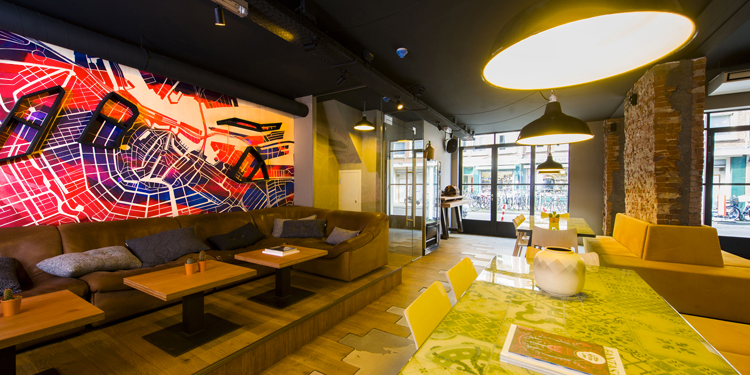 all images and video courtesy of CityHub