As part of a creative partnership with the architectural firm B3, Canadian fashion brand Dubuc introduces Close Up, an installation by Sébastien Breton that integrates seamlessly into the Saint-Pierre Street boutique and beautifully complements the collections. Philippe Dubuc's passion for contemporary art is nothing new. In many ways, the great freedom of contemporary artists and the designer's profound creativity are in perfect harmony. For example, Zilon's murals, featured in the boutique located at 417 Saint-Pierre Street, are not only a shining tribute to this complicity, but also act as a mirror to the rebellious flair that Dubuc bestows so expertly upon classic menswear.
With B3's newest installation Close Up, the absolute urbanity, dynamism and texture of Dubuc's lastest collection is reflected in a surprisingly playful installation that appears to be in perpetual motion. "I like to draw upon change and contemporary art for inspiration," explains Philippe Dubuc. "Sébastien's installation, the second that we have had to good fortune to host, is a playful and ephemeral work that blends easily with the designs, but also leads the observer elsewhere."
Close Up is comprised of segments of an immense galvanized steel culvert from Soleno, a company in Saint-Jean-sur-Richelieu. Cut and painted bright yellow on the inside, the segments were placed to create a concentric effect that brings to mind the name of the piece itself – Close Up. From the street, the effect is surprising, destabilizing and seductive.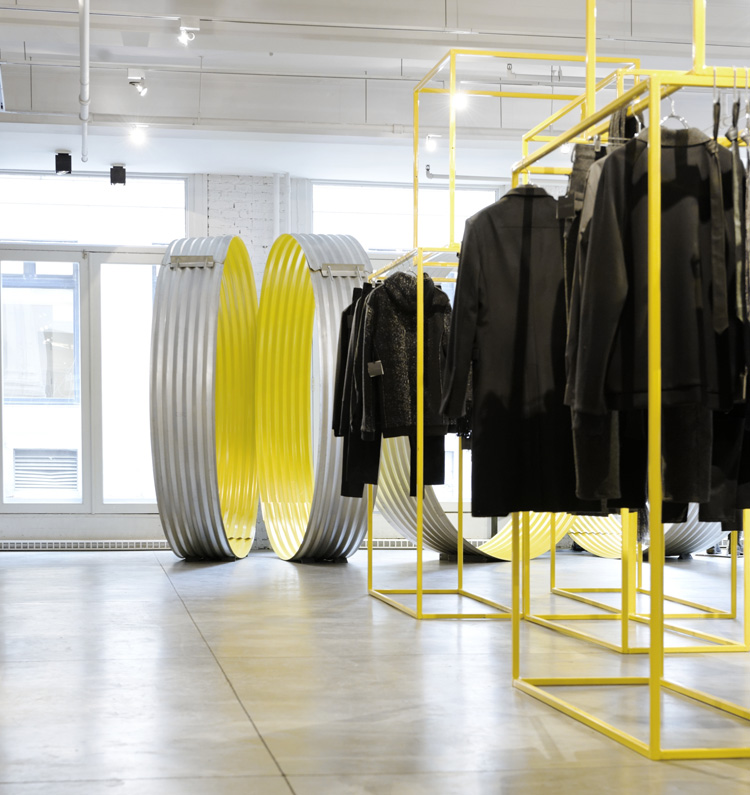 "I like to provide something for people to experience, to spark a conversation with the texture of the material. Dubuc's designs – their cuts, silhouettes and textures – really speak to me," explains Sébastien Breton, President of B3. "Close Up gives everyone the chance to share a story and to live a sensorial urban experience in the city."
Spectacular and stimulating, Close Up also provides a wonderful excuse to discover Dubuc's new space in Old Montreal.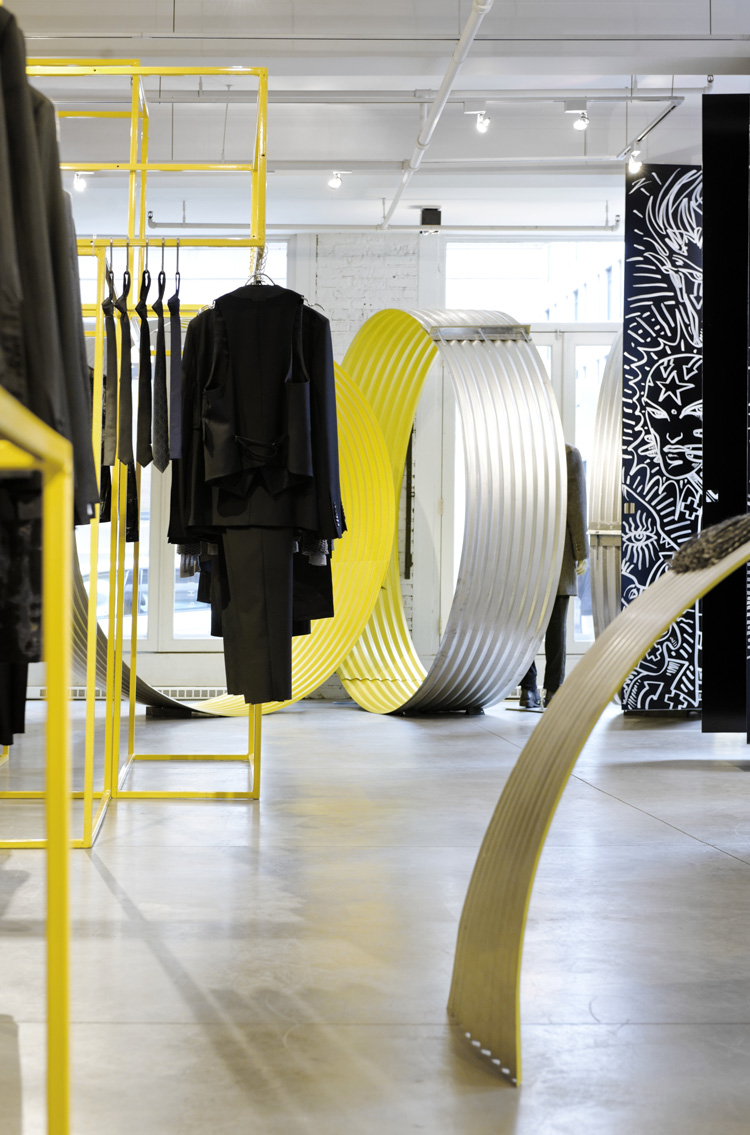 all images © PIERRE BÉLANGER