Legendary supercar brand, De Tomaso, has been revived with the global debut of its brand new P72 model on the opening day of the 2019 Goodwood Festival of Speed. As the marque celebrates its 60th anniversary, new Hong Kong-based owners IdealVenture revealed that its impossibly beautiful new model has been designed to pay homage to De Tomaso's 1960s P70 prototype racer, built in partnership with Carroll Shelby.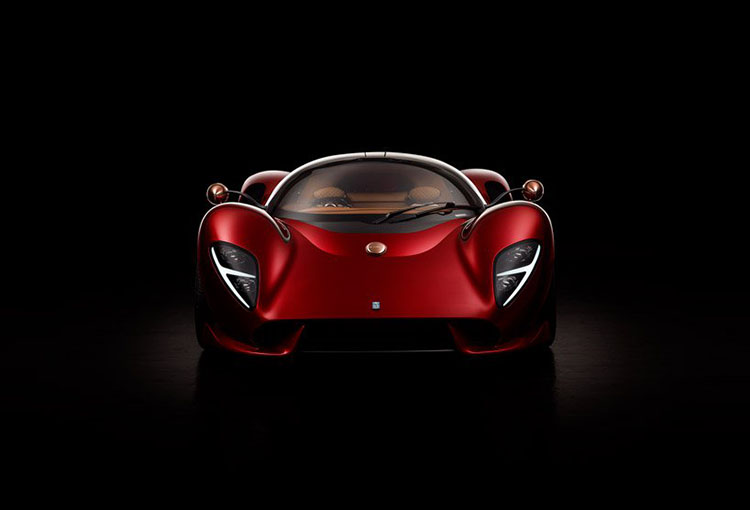 The P72's flowing surfaces, bold lines and emphasized wheel arches, case a carbon fiber chassis derived from the Apollo Intensa Emozione. It consists of the monocoque, as well as subframes and crash structures that adhere to respective FIA LMP safety requirements and features a carbon mono-cell.
Inside, an interior focused on analogue and tactility takes a minimalist approach with as little tech intervention as possible. Still, the result is quite opulent, featuring quilted leather and gauges that look like faberge eggs. Classically designed switchgear and circular analogue dials take inspiration from 60s and 70s designs.
The car has been developed over the last five years thanks to a remarkable partnership between De Tomaso, AMG founder Hans Werner Aufrecht and designer Peter Brock, who not only drew up such classics as the Corvette Stingray and Shelby Daytona Cobra Coupe but also worked on the original De Tomaso P70.s
De Tomaso has not yet revealed what will power the P72 – merely that it shares the same carbon fibre monocoque chassis as the Apollo Intense Emozione, for which IdealVenture was also responsible. Only 72 unit will be built, each costing around €750,000, which works out to nearly $850,000 at current exchange rates.
"We wanted to tell the untold story of the De Tomaso brand with this car, reviving a part of its history that hardly anyone knows existed. De Tomaso has always been built on six pillars – among them are racing, passion and beautiful European design and these have been the inspiration for this car," says De Tomaso general manager, Ryan Berris. "Alejandro de Tomaso's story was never properly told and we feel his name should be recognized among the greats like Ferrari and Lamborghini."