Within a market that is rapidly shifting to heated electronic cigarettes, the appeal of traditional cigarettes may have been lost. Renowned studio nendo has teamed up with cigarette manufacturing company JT (Japan Tobacco) to design a "third cigarette", for those who are not inclined to electronic cigarettes, and to maintain values and merits of traditional cigarettes, by igniting capsules.
A cigarette capsule is attached simply by knocking the top button, and then smoked by directly lighting the tip with a lighter. The capsule is discharged by knocking again. So, there is neither need to touch the heated capsule directly nor to worry about getting burnt or dirty.
Heating with a flame rather than through electricity deepens the taste, and the act of looking at the flame can create a relaxing effect. Additionally, the time from lighting the cigarette to smoking is reduced; the new design takes just 5 to 10 seconds whereas electronic cigarettes need about 20 to 40 seconds.
Electronic cigarettes are unique in the way they can heat tobacco leaves without burning them, they place reduced burden on the body and creates less smoke or ash to inconvenience those around. Incorporating such advantages, a design that encourages communication by allowing the capsules to be visible, a multitude of capsules enabling flavor variations to match your mood, fosters the sharing of the capsules and a new layer of communication is anticipated.
Furthermore, it is easy to clean and maintain as the device is simpler, and since charging is unnecessary, it is more compact and lightweight without a battery, making it handier to carry around. There is also less sense of discomfort when witnessing someone smoking an electronic cigarette compared to traditional cigarettes. How the cigarette is stored and carried has also been considered, whether it is placed on a desk or is carried around, it was designed together with accessories, a leather case to carry multiple capsules, a lighter and a stand that doubles as a container for used capsules. Since it was a design that is completed by using fire, it was named "en" (the kanji character for flame).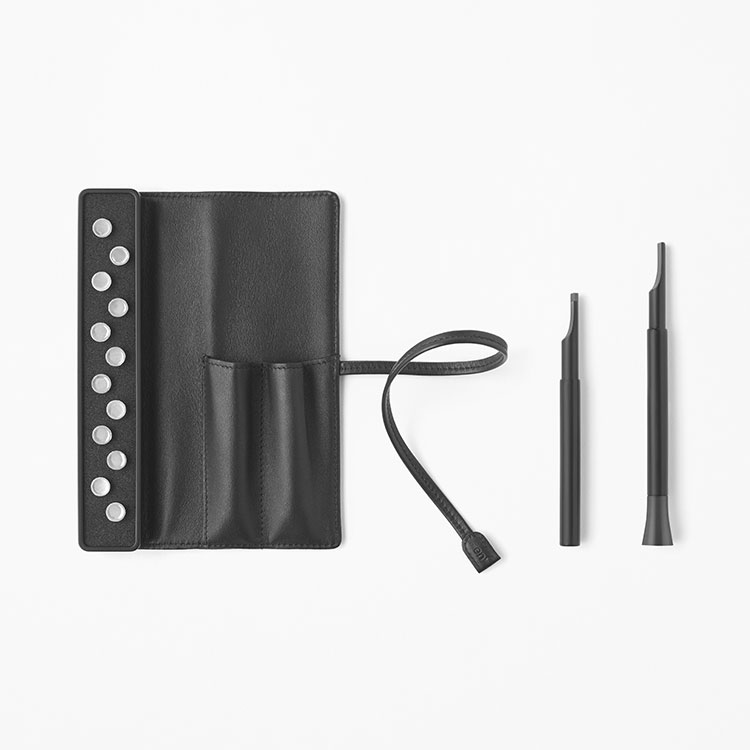 Comments
comments