Designed by Zaha Hadid Architects, the 'Dominion Office Building' is a seven-storey office block that rises in Moscow's emerging Yuzhnoportovy district, which hides on its inside a dramatic black-and-white atrium.
Conceived as a series of vertically stacked plates off-set at each level with connecting curved elements, a central atrium rises through all levels to bring natural light into the centre of the building. Balconies at each level project into the atrium and correspond to the displacement of the outer envelope and a series of staircases interconnect through this central space.
With the ground floor restaurant linking the atrium to the outdoor terrace and Sharikopodshipnikovskaya Street beyond, and coffee/snack areas and relaxation zones on the balconies, the atrium becomes a shared space over many levels that encourages interaction between the employees of the companies within the building. This integration also encourages collaboration between companies of different services and disciplines. Many IT and creative industry start-up companies regard this collective research culture as vital for progress and development, and the design of the Dominion Office Building reinforces this concept with open connectivity throughout the building. The office spaces are arranged within a system of standard rectilinear bays to offer many different possibilities for small, expanding or large companies.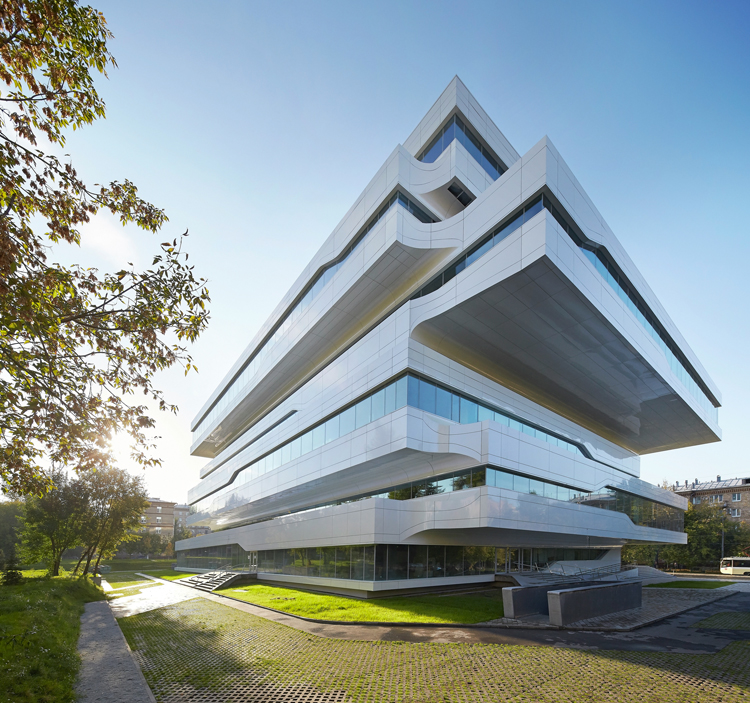 all images © Hufton+Crow