At the Motor Bike Expo of Verona, Ducati has unveiled three new Scrambler specials called Peace Sixty2, Revolution and Artika. Following the Ducati Café Racer Scrambler, the imaginative Verona-based builder Mr. Martini has now come u with his second Scrambler-based creation. This is the Peace Sixty2 (above). Based on the new Sixty2, it has an eve "racier" feel than the previous special designed by this builder, largely thanks to its 1960s-style fairing. The plexiglass nose fairing designed by Mr. Martini for this bike (giving prominence to the original headlight), the handlebars, the single-seater tailpiece, the Termignoni exhaust and hand-crafted leather seat all make the Peac Sixty2 something truly unique. Further contributions to its originality also come from a series of details an graphic elements, such as the symbols that recall the concept of peace.
With the Peace Sixty2 Mr. Martini also aims to express a state of mind. Indeed, the idea behind this bike too shape during the recent tragic events in Paris, a city extremely dear to Mr. Martini, where he has showcased hi creations at numerous events and exhibitions.
Revolution (above) is a Ducati Scrambler Sixty2 that has undergone the full bobber style treatment. This bike i characterised by several elements, all hand-crafted by Officine Mermaid, the same team that previously came u with the Ducati Scrambler Scratch. Specially for the Revolution, this Milan-based builder has come up with leather rider-only seat as well as new fork yokes and a new plate holder. Dedicated on-tank pin striping nicel offsets the black colour scheme so typical of bobber bikes. The 17'' front and rear wheels emphasise the bike' custom character. Dario Mastroianni, founder and customizer of Officine Mermaid, named the bike Revolution t highlight just how sweeping the changes to it have been. Low-slung and wicked-looking like any self-respectin bobber, the Ducati Scrambler Revolution is as essential as can be, stripped of everything that's not strictl necessary.
Lastly, the Dario Lopez Studio has put its signature to the Ducati Scrambler Artika (above), a modern take on the Ducat Pantah Ice project of the late 70s, one of the iconic bikes displayed at the Ducati Museum in Borgo Panigale. The latter used to take part in the Ice Trophy, a competition reserved for Ducati Pantah bikes alone. The Ducat Scrambler Artika retains the colour scheme of its yesteryear counterpart: sporting a fluorescent yellow, its vintag graphics offer intriguing nuances of blue. The mechanics, based on the Icon version, take centre-stage thanks t clever old-style highlighting of the essence and shine of the aluminium. Chunky, Pirelli tyres with ice studs mak the Ducati Scrambler Artika a bike with a personality as extreme as it is unique.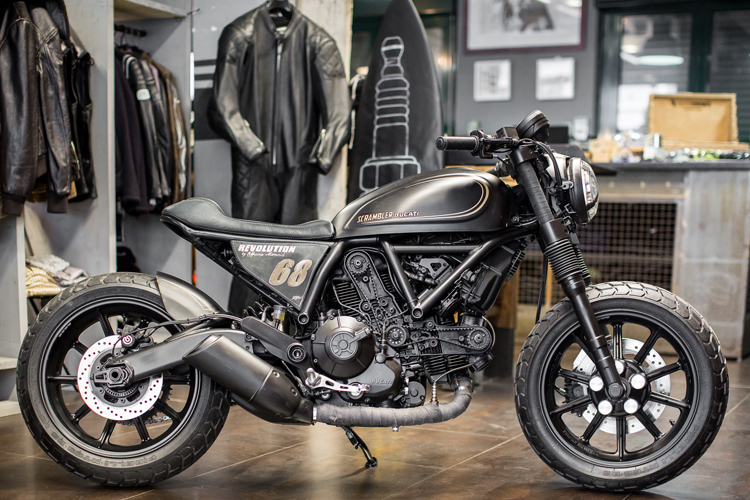 all images courtesy of Ducati