Ferrari has selected the 87th edition of the Geneva International Motor Show for the world premiere of the new 12-cylinder berlinetta, the 812 Superfast, the most powerful and fastest Ferrari ever built. This new car not only introduces a plethora of innovative features but is also particularly significant as the V12 series marked the official start of the glorious Prancing Horse story in 1947, 70 years ago this year.
The 812 Superfast thus ushers in a new era in Ferrari 12-cylinder history, in doing so building on the invaluable legacies of the F12berlinetta and F12tdf.
Powered by a new 6.5-litre V12 engine that unleashes 800 hp, the 812 Superfast is the new benchmark in the mid-front-engined sports car segment, achieving maximum power output at 8,500 rpm. Figures that no other front-engined production car has ever even come near to delivering and which ensure the kind of thrilling top-end performance that is the exclusive characteristic of Ferrari's noble V12 heritage.
Designed by the Ferrari Styling Centre, the new 812 Superfast redefines the formal language of front-engined V12 Ferraris, underlining the car's exceptional performance with very sporty lines and proportions. Seen in silhouette, the 812 Superfast has a fastback sleekness: a two-box design with a high tail reminiscent of the glorious 365 GTB4 of 1969.
The design of the flanks visually shortens the tail and is characterised by impressively muscular wheelarches which imbue the 812 Superfast with the power and aggression warranted by its imposing V12. Full-LED headlights integrated into the design of the sculpted air intakes on the bonnet also emphasise that front muscle, integrating with, and wrapping around the front wheelarch.
At the rear, four round tail-lights inspired by Ferrari tradition emphasise a design crafted around horizontal lines and give the 812 Superfast a broad, imposing stance, visually lowering both spoiler and cabin.
As with all Ferraris, style and aerodynamic function are seamlessly integrated to produce innovative solutions and forms. Two examples are the multi-functional frontal section, which incorporates a cluster of aerodynamic solutions including active flaps at the front of the underbody, and the rear flank which features an unprecedented aerodynamic by-pass to increase downforce. The car is being launched in a special new colour, Rosso Settanta, which marks the company's 70th anniversary.
The interior of the 812 Superfast has been revisited in line with the more extreme exterior whilst maintaining unaltered the exceptional on-board comfort and space that Ferrari's front-engined V12 berlinettas have always offered. The cabin has been given a sportier, more radical look with the main elements seeming to float, creating an effect of both thoroughbred racing eagerness and lean elegance. The horizontal dash loops stylishly around the central air vents for a sophisticated, sculptural look. New, more sporty and ergonomic seats feature alongside the new HMI, including new steering wheel and instrument clusters and the latest infotainment and air-conditioning units.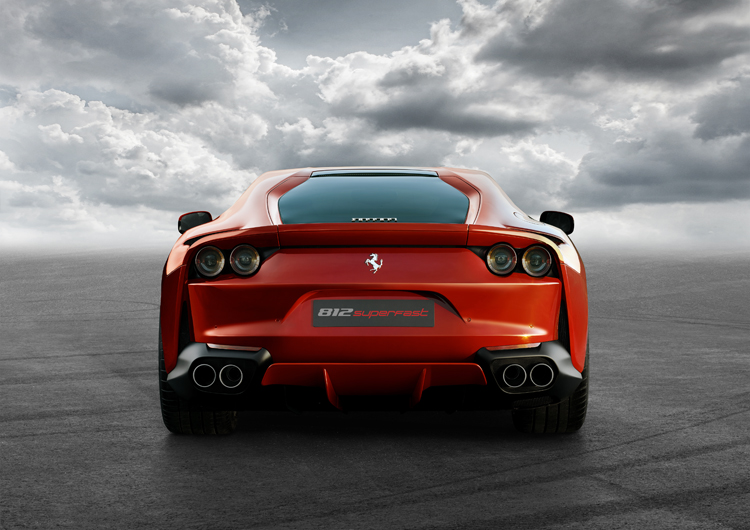 all images courtesy of Ferrari