After serving up fresh Mexican fare at Windsor, Richmond, and Flinders Lane, the latest addition to the Fonda family is set to bring a bold new flavour to the Glenferrie Road precinct in Hawthorn, Australia. This is the third Fonda restaurant designed by Techné Architecture + Interior Design, a collaboration which has seen Fonda become a Melbourne icon for its signature interiors that playfully interpret the Mexican 'Fonda', resulting in surprising and delightful details.
The latest addition to the family is no exception with the design shaped through colour, texture and pattern, deriving inspiration from both traditional and contemporary Mexican architecture and interiors.
Techné has given new life to the inherited features of the old Hawthorn corner building, integrating the original timber trusses, exposed red brick walls and concrete flooring into the design to add texture and warmth. These natural elements are offset with a signature Fonda pop of colour in a cool palette of pastel pinks, yellows and blue, contrasted against more vibrant hues.
This colour scheme is playfully splashed across custom steel screens and besser blocks that have been used to break up the large space into more intimate dining spaces. A characteristic focus on bespoke furniture has been used to create unique and varied seating typologies, including cozy booths, intimate small tables and bar seating.
In designing the layout of Fonda Hawthorn, Techné continues to play with the concept of a 'Fonda' as a Mexican home-run eatery. This iteration breaks the space into different relationships to the 'Fonda' – the courtyard, patio, home, and backyard. This is most apparent in the choice of retro fabrics that recall lawn furniture and window awnings, as well as the use of terracotta pots as light fittings.
A stunning execution of bold colour and pattern, this latest addition to the booming Mexican eatery will no doubt delight customers with a feast for the eyes as well as the stomach.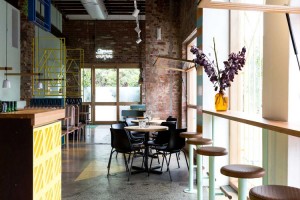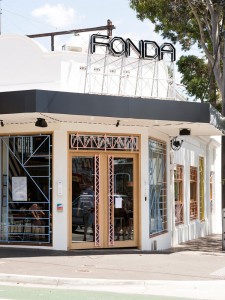 all images © TOM BLACHFORD