Flatiron Reflection, the winner of the fourth-annual Flatiron Plaza Holiday Design Competition, has been unveiled in New York City. Hosted by the Flatiron/23rd Street Partnership Business Improvement District (BID) and Van Alen Institute, the temporary installation will serve as the "highly-visible centerpiece" of the neighbourhood's holiday season programming.
Flatiron Reflection, designed by Brooklyn-based architecture-and-design firm Future Expansion, is a public-spirited space that encourages new experiences of the city, new modes of dwelling in the plaza, and new views of its context.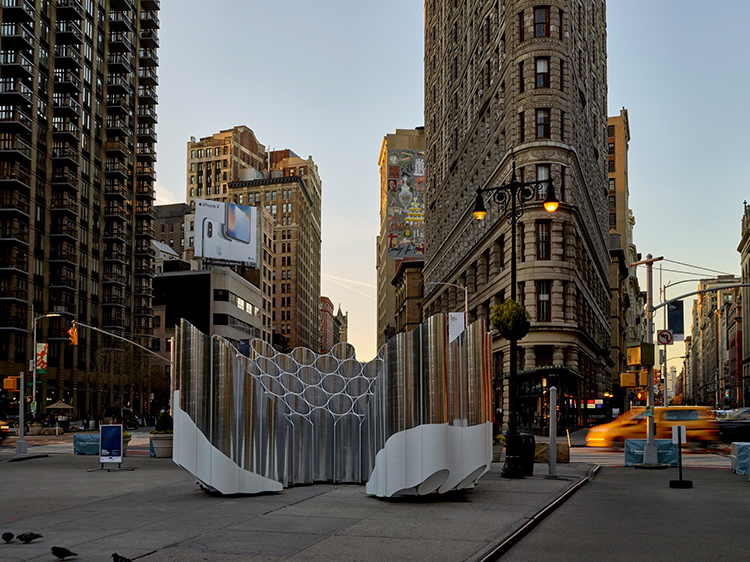 A bundle of shimmering tubes creates a fragmented column at the scale of the public plaza. The fluted perimeter offers niches that can be occupied, while a panoramic central space opens out like a stage into the plaza. The conical interior form cuts out the visual noise of the city to isolate the image of the Flatiron Building and its neighbors on the skyline.
The project is designed to be experienced both up-close and from a distance. As you walk around it, the play of light, shadow, and reflection changes its appearance against the background of buildings and trees. From a distance, the folds create soft reflections that become clearer as you approach; indistinguishable shapes sharpen into hazy impressions of familiar landmarks.
"We're excited to be working with the Flatiron/23rd Street Partnership and Van Alen Institute to temporarily transform this spectacular site," said Deirdre and Nicholas McDermott, principals of Future Expansion. "The installation is designed for three scales of experience: The deeply creased exterior makes spaces for individuals; the interior room offers an intimate panorama for small groups; and the north-facing wedge presents a platform toward the plaza. We hope that the installation opens new possibilities for interaction and experiences while reinforcing the pure public essence of the site."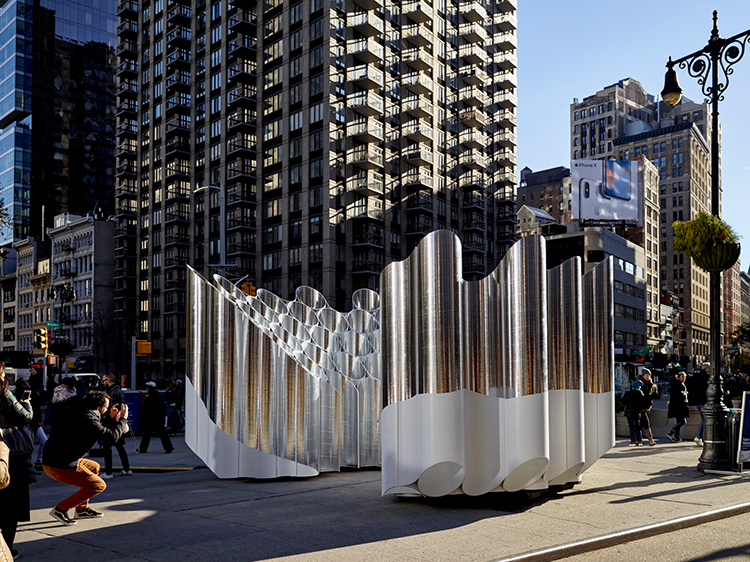 "This installation is the latest of four rewarding years of collaboration between Van Alen Institute and the Flatiron/23rd Street Partnership on the Flatiron Public Plaza Holiday Design Competition," said David van der Leer, executive director of Van Alen Institute. "The initiative has become a valuable platform for launching new practices and a visible celebration of inventive, temporary designs that enliven public space during a chillier season, as well as an opportunity to understand how these spaces impact our minds and bodies."
The installation will remain on view to the public on the Flatiron North Public Plaza at Broadway, Fifth Avenue, and 23rd Street through January 1st.
all images © Noah Kalina