Located in London's Covent Garden, the Henrietta Hotel by Parisian design firm Chzon is named after the eponymous street, once home to the city's renowned publishing houses and booksellers. The hotel, stretching across two four-story townhouses from the late 19th century, comprises 18 rooms, one restaurant and a cocktail bar. Inspired by the hodgepodge of different roof shapes and window details on Henrietta Street, Dorothée Meilichzon and her team have used a number of recurring elements that give each room a unique flair.
"My first inspiration for the hotel was the street itself" explains Meilichzon. "I always try to start from the neighborhood. On Henrietta St, buildings are very traditional: flat but with all kind of roof shapes and windows ornementations, very rich and different from each other. It reminded me of the antique ornementations: arches, capitals, bas-relief, and also all those amazing door frames we can find in apartments in Milan."
Following this inspiration Meiliczhon chooses brass bedside lighting, 70s-style brushed aluminium armchairs, terrazzo patterned carpets, handmade headboards that resemble Milanese door frames and a generous amount of mirrored surfaces all work together to create a sophisticated, yet lively effect. Bathrooms with pastel pink walls, hand-painted gold signage and black and white octagonal floor tiles are an especially alluring highlight.
On the ground floor, the entrance to the restaurant and bar is conceived in continuity with the hotel, leaving virtually no room for a lobby thereby immediately pulling guests into a naturally coloured space of polygonal tables, plush armchairs, terracotta tiles and herbariums.
The highly-anticipated restaurant Henrietta features a menu conceived by Ollie Dabbous. The ingredient-led menu is based on seasonal dishes with subtle French notes, while the drinks menu is inspired by Covent Garden's glorious past, created by the multi-awarded cocktail couple Jared Brown and Anistatia Miller.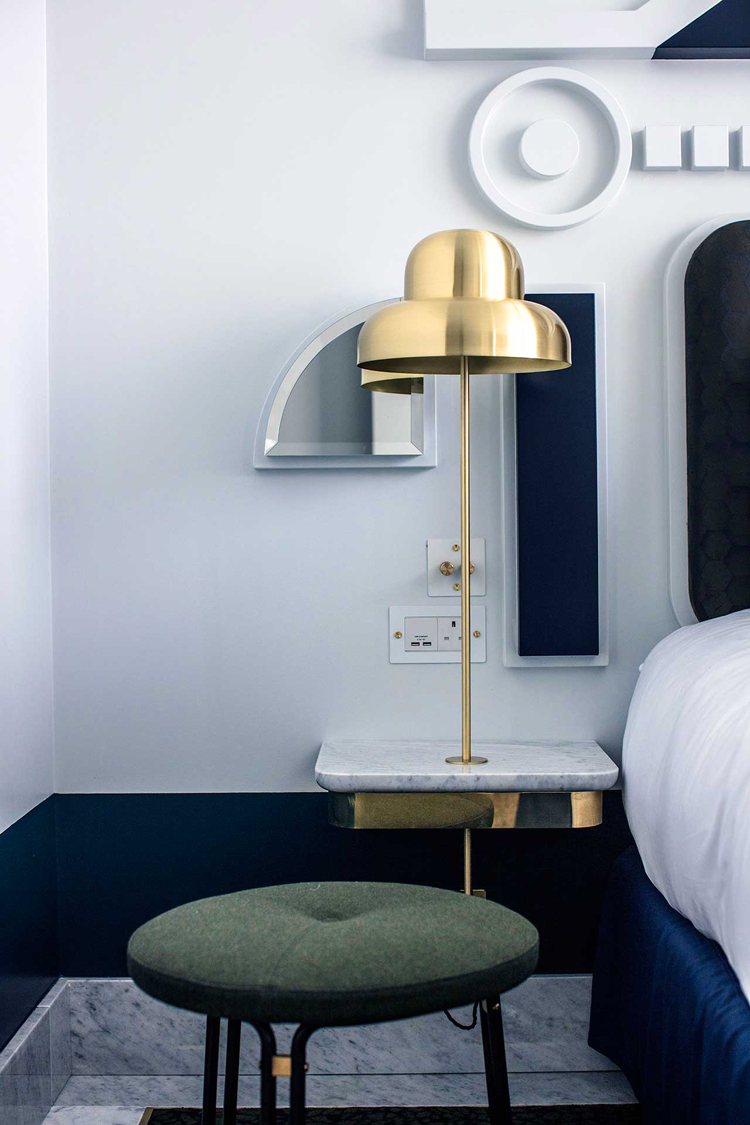 all images © Karel Balas