Starbucks celebrates San Francisco's history and attractions with the opening of a new store. Replacing a smaller store in the city's Fisherman's Wharf area, a 4,400 square-foot Starbucks opened its doors to the public at Hyde and Beach.
San Francisco's nautical past inspired the design team. Starbucks logos are subtle welcoming beacons on the corners of the exterior. A delicate steel portal, made of ship's hull material, frames front door. Inside, customers arrive at a high platform that reveals an overview of the space and is somewhat reminiscent of stepping on board a ship. A gentle, cascading staircase leads to another platform, where eyes are drawn to the bar area where baristas handcraft beverages. From there, additional stairs lead to the main floor of polished concrete with a bright, inviting seating area.
Artist Kyler Martz has playfully portrayed elements of the city's history on a concrete wall which was discovered during demolition of the previous space. The artwork features the Port of San Francisco's Ferry Building with an octopus at the bottom of the tower, and whimsical cable car with a whale's head and tail.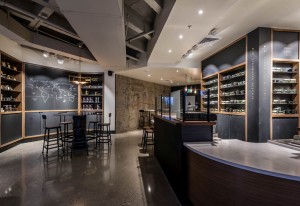 all images © MATTHEW GLAC – courtesy of  STARBUCKS