As part of an outdoor exhibition of works by Danish artist Jeppe Hein at New York 's Brooklyn Bridge Park , Mirror Labyrinth is a large-scale installation that stands atop the Pier 3 Greenway Terrace , reflecting the spectacular views of lower Manhattan through a myriad of geometries. Hein has developed the design of this work in response to the site, particularly in relation to the spectacular views of Lower Manhattan afforded by the park.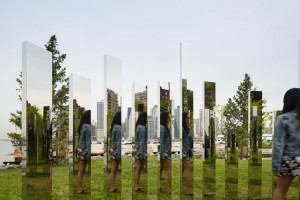 Using equidistantly spaced vertical posts made from mirror- polished stainless steel, he has created a kind of labyrinth in three radiating arcs that alters the perceptions of visitors, as they see physical space and mirrored space in an alternating rhythm. The width of each element is the same but the heights are variable—inspired by the irregular Manhattan skyline across the river—adding to the perceptual shifts and illusions that will engage and delight visitors. 
The exhibition is presented by Public Art Fund, a nonprofit organisation in New York City.
all images © James Ewing / courtesy Public Art Fund, NY