The refurbishment of this small apartment located on Paulista Avenue in São Paulo, represents for local studio JPG.ARQ an opportunity to intervene in one of the units of the building designed in the 50s by the architects Jacques Pilon and Gian Carlo Gasperini, considered one of the most representative housing buildings of the city's architecture.
The inner walls of the apartment have been demolished and the original unit, composed by two bedrooms, living room, kitchen, bathroom, laundry area and small room for employees, has provided a unique space organized by the volume of a closet. One of the bedrooms has been removed to double the size of the living room. Likewise, the employees room has been joint to the kitchen.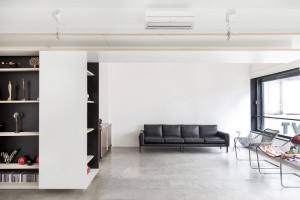 The central plywood closet connects all rooms in the apartment: in the living room, it is a shelf for books and objects; in the kitchen, a cupboard and storage; in the bedroom, a closet for clothes; and in the bathroom, a shelf. The ideal privacy of each room is provided by the proximity of the closet, lift and bathroom. The cement floor has been applied in the whole apartment.
all images © FERNANDO STANKUNS