Japanese architect Kazuteru Matumura has refurbished the interior of an old townhouse in Toyosaki, creating a two-story home that can be partitioned with curtains. Toyosaki is a town located in a 15 minute walking distance from Umeda station, a main hub of transportation in North Osaka. "The owner bought this old house and there is not much information about when or who built the house. The only thing we could find was that the house was renovated in the same year as when the Olympics was held in Tokyo: 1964" explains Kazuteru Matumura, who runs an architecture studio called Coil.
Design development took place after the demolition of the interior walls in order to access the condition of the existing structures. The structure was enhanced to meet the latest code requirements. Also, the insulation was replaced to achieve equivalent quality of new houses as to meet the 4th grade energy saving performance evaluation program requirements in Japan.
The finishes and layout were determined with a positive measurement. The toilet and the bathroom were the only spaces where doors were installed. The other spaces are softly divided by curtains in order to leave the option of having these areas either open or closed.
The entrance has a luxury space considering the total size of the house, as the ceiling of the staircase is an open design. These were achieved to minimizing the wall/door construction cost. In addition, this achieved in optimizing the space utilization by connecting the floors as the total overall space is limited.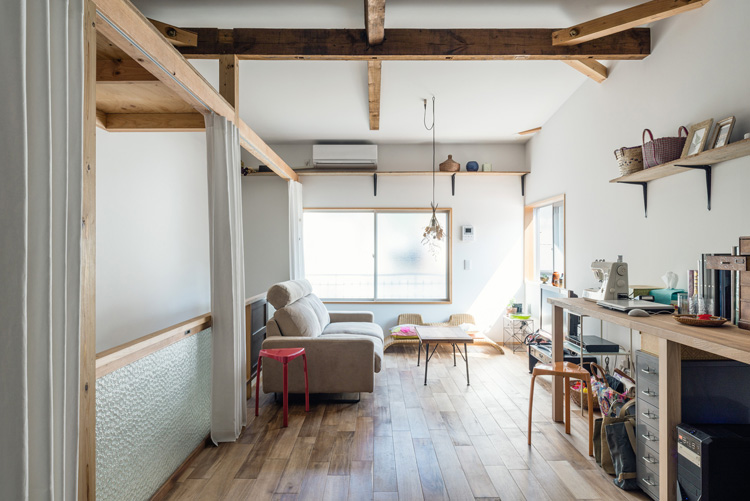 In opening up and connecting the space, the old doors and flooring, kept when the house was demolished, were reused by changing the functions and locations of them. Storage is basically managed by having many ways to show and display personal items, life and hobbies of the owner.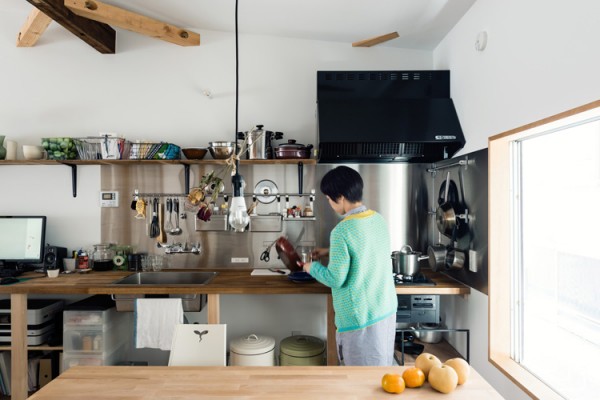 all images © YOSHIRO MASUDA