To celebrate 100 years of Finnish independence, designer Linda Bergroth has transformed the building of the Finnish Institute of Culture in Paris into a hotel. The project, titled KOTI — meaning 'home' in Finnish — celebrates the shared experience of a summer-cottage sleepover in Finland.
Guests staying at one of the six Finnish cottage can expect to enjoy traditional Finn hospitality, where a cosy combination of openness and a sense of tranquility will be the perfect end to a day exploring the streets of Paris. 
Every element of the installation has been chosen to show the best in Finnish hospitality, creating a complete immersion in the spirit of Finland in Paris. Travellers will celebrate the beauty of unique interiors, a sense of togetherness and a peaceful simplicity, whether staying overnight or simply visiting for the day.
In addition to the sleepover experience, KOTI will also play host to a series of inspiring events, such as concerts and talks, film screenings and pop-up restaurant nights. 
The six sleeping cabins, designed to allow maximum privacy while keeping the community feel, accomodate a total of twelve people and open onto a shared space where there is a communal dining table and benches designed by architects Mattila & Merz. KOTI guests of a sociable disposition will enjoy getting to know their cabin neighbours, while for moments of solitude there is an in-cabin entertainment package, complete with headphones, showing short films, documentaries, animations and Finnish travel guides by Visit Finland. 
On arrival for a sleepover, guests will receive specially designed robes and slippers by Lapuan Kankurit, to add to the feeling of a shared experience. 
After a restful night's sleep, lamps by Innolux will ensure a gentle wake up with simulated natural daylight before enjoying coffee served in distinctive Piippu pots by Kaksikko. A delicious breakfast of traditional specialties such as rye bread, salted butter and Finnish berries will be provided by Food from Finland. This will be served on custom-made ceramic tableware by Nathalie Lahdenmäki around the communal dining table, with hosts to  look after guests.
"The KOTI installation highlights the experience of a common, shared home. There are six little huts without soundproofing, and guests eat breakfast together. Yet people are not forced to speak but can be together quietly, and not talking is completely OK," says Linda Bergroth. "Instead of well known design products, I think we should highlight the Finnish ways of sharing. This is what the little village of aitta guest houses for KOTI aims to achieve. It is a bit crazy and experimental experience that requires the guest to engage in something completely new."
The Institut Finlandais will host sleepovers at KOTI for 100 days . The booking for sleepovers is hosted by Airbnb.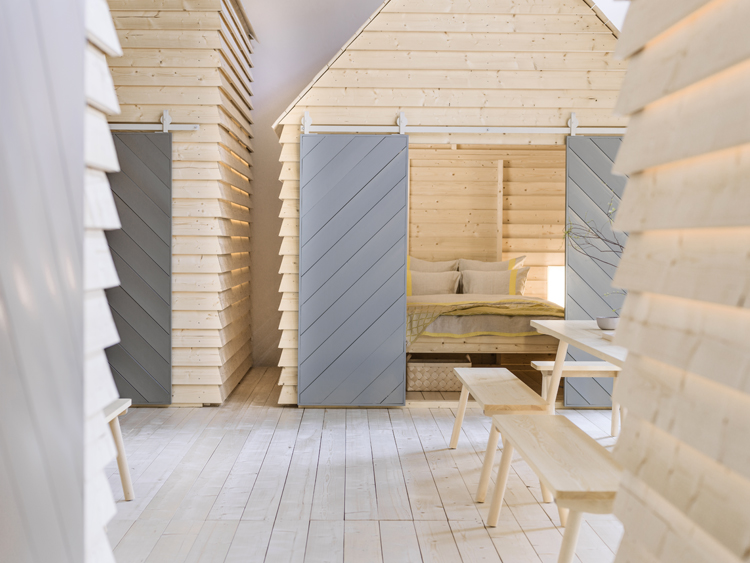 KOTI: The Sleepover Experience 
That Delivers Hygge, 
Finland And Paris In Just One Night 
25 th of January – 5 th of May 2017
kotisleepover.com