NEXT Architects has completed an undulating red footbridge in Changsha, China, dubbed Lucky Knot. The new pedestrian bridge in the Chinese mega city Changsha was unveiled to the public a few weeks ago. Beijing and Amsterdam studio NEXT Architects designed the Lucky Knot bridge for Changsha's Meixi Lake district, a 6.5 million-square-metre development masterplanned by Kohn Pedersen Fox for the southwest of the city.
Now, just a few weeks after the opening, the 185 metres long and 24 metres high bridge has already become an icon, and was selected by CNN as one of the "most spectacular bridges that break the mold."
The bridge is a key project in developing the area's public space, and was designed with recreational, ecological and tourist activities in mind. The bridge connects multiple levels at different heights (the river banks, the road, the higher-placed park as well as the interconnections between them). The final shape of the bridge is the result of -literally and metaphorically- knotting all these routes together.
"The shape of the Lucky Knot was inspired by the principle of the Mobius ring, as well as by the Chinese knotting art. In the ancient decorative Chinese folk art, the knot symbolises luck and prosperity," says John van de Water, partner at NEXT Architects Beijing.
The bridge owes its imaginative appeal to the combining of tradition and modernity. "The Lucky Knot is more than a bridge and a connection between two river banks. Its success lays in bringing cultures together, and in the fusion of history, technology, art, innovation, architecture and spectacle," adds NEXT Architects Beijing partner Jiang Xiaofei.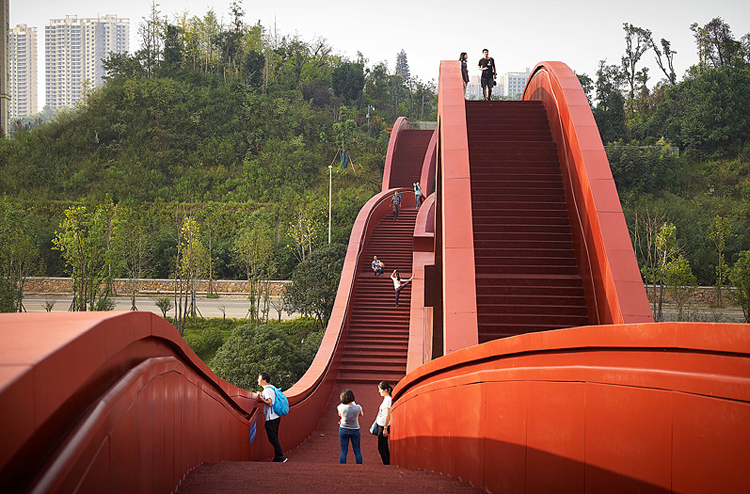 The Lucky Knot connects, illuminates and entertains. The bridge offers a spectacular view of the river, Meixi Lake, the city of Changsha and the surrounding mountain range. Thanks to its remarkable LED lightshow, the bridge is set to become a landmark attraction in the light route that traces the path of the Dragon King Harbour River.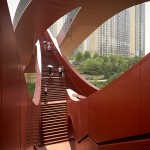 all images © Julien Lanoo