Spanish company specializing in wood veneer lighting LZF Lamps presents its new Life-Size Collection at Euroluce 2015 in Milan this week. This collection of sculptural pieces is born out of the desire of LZF Lamps' founders, Mariví Calvo and Sandro Tothill, to collaborate and innovate via daring projects with artists and craftsmen of different disciplines.
The story of the Life-Size collection started a few years ago when Mariví and Sandro had been studying a new way of diffusing light through the use of overlapping rectangular squares of wood veneer. They then put on a show using illuminated walls made up of over 4000 pieces of wood. The effect of these walls reminded them of the scales of a fish, hence the dubbing of this effect Koi Fabric.
Later in New York, in collaboration with Inocuo The Sign, a Motion Graphics film recreated a three-dimensional Koi inspired by the translucent scale fabric with which Mariví and her team at LZF were working on, with such passion. As related by the creative team at LZF Lamps: "after dozens of sketches, Koi began taking on a recognisable shape. At the film presentation at Euroluce in Milan in 2011, we fell in love with the character created by Inocuo The Sign, so the next phase was inevitable: we had to try to recreate the Koi character from the film short into something tangible, a real life size illuminated light fixture that defied gravity".
Five years later, LZF Lamps finally unveils the result of their intensive technical research, working hand in hand with a variety of craftspeople and artists to present their new creation, at the crossroads between art and design, to people with an interest in unique pieces. Thus, Koi Fish is the first piece of the Life-Size Collection, an innovative collection of unique sculptural creations. In pavilion 11, stand C22 at Euroluce 2015 in Milan, Koi Fish will be joined by other pieces from the new collection, such as the Funny Farm animals by the illustrator Isidro Ferrer and Dandelion by Burkhard Dämmer, among others.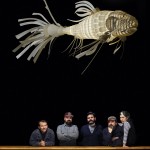 all images © SANTIAGO RELANZÓN