Spanish studio 05 AM Arquitectura has recently refurbished this 19th-century house near Paris for a couple and their two young children. The aim was to add a contemporary aesthetic to the traditional layout and original features of the house located in Saint-Maur-des-Fossés.
On the ground floor the design team has removed part of the existing partition, connecting together the main living areas such as the living room, the dining room and the kitchen, and achieving a concatenation of spaces until the garden. They also improve the functionality of the entry with the addition of a new built-in furniture that stores a wardrobe and a bathroom while separating the entrance from the kitchen.
On the first floor 05 AM Arquitectura followed the same criteria, identifying the characteristic elements that went overlooked over the past amendments, such as the magnificent existing alcoves, restoring their clarity and characteristic features. These two bedrooms were renewed setting a contemporary renovation as well as improving its clearness and functionality. In the main bedroom, the architects have re-placed the alcove next to the bathing area that incorporates the shower and the bath in a volume made of marble. Children's bedrooms occupy the other side of this floor, with beds set into small alcoves in the brightly coloured walls.
The rest of the interiors spaces features light-painted walls and pale wooden flooring, which create a pared-back aesthetic.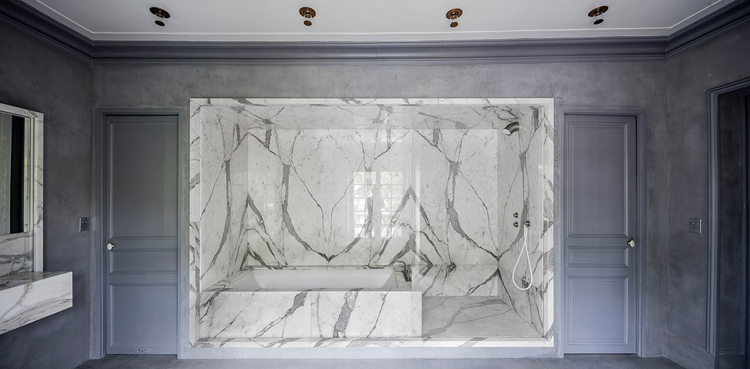 all images © Adrià Goula Sardà