Valencia studio Masquespacio has recently completed a new Spanish supermarket in Cologne, Germany, seeking a mix between functionality and Spanish culture through colors, patterns and materials. 
Sevillian entrepreneur Pepa Bascón decided to move to the German city Cologne twenty years ago in search of new adventures. After several experiences in hospitality, more than 10 years ago she decided to set up a small store of Spanish products in the center of Cologne, bringing the best of her native country to Germany.
Thanks to the good acceptation of her project years further she decided to constitute a more ambitious wholesaler to attend a growing demand of Spanish products by Italian and Spanish restaurants in and around Cologne and Dusseldorf. The augmenting popularity of Spanish gastronomy in Germany, made that Pepa Bascón in 2016 decided to open a new 'cash & carry' supermarket with the aim to offer a specific service to non-professional clients in Cologne.
For that she contacted Masquespacio to design her new brand and interior space. The design of the new Solera from around 500 smq was developed in search of a touch of Mediterranean emotion, mixed with functional features necessary for this type of businesses. The predominating black color offers seriousness, contrasted with several 'happy' colors that remind to Spain, without converting themselves in typical Spanish topics. Other elements make us think about Andalucía like the grids with ornaments, as well as the awnings and typical Mediterranean tiles. 
The signage also done by Masquespacio follows the patterns of the brand, adding on every moment a touch of emotion to the interior design, transmitting Spanish happiness. Last but not least the kitchen for degustation and seminaries, next to the cold chamber clearly shows the pattern of Solera's new market, a cash & carry 100% focused on Spanish gastronomy.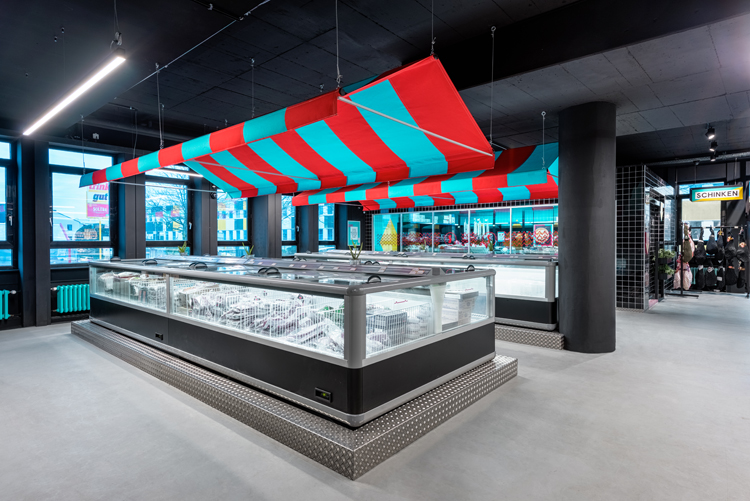 all images © Luis Beltran