Mercedes has unveiled the Mercedes-Maybach G650 Landaulet, giving to its G-Class SUV a luxury upgrade. TheMercedes-Maybach G650 Landaulet features a Biturbo V12 engine with 630 horsepower and 737 pound-feet of torque channeled to four 22-inch wheels. The wheelbase has been stretched by 22.7 inches and the rear seats are replaced by individual fully reclining massage seats.
While the driver and front passenger are accommodated under the closed roof, the rear passengers can revel in a maximum of comfort: at the press of a button, a large folding top opens electrically to offer a view of the blue sky. The rear passengers enjoy the majestic open-air experience from their single seats. On demand, an electrically operated glass partition separates the rear compartment from the driver's section. In addition, the glass can be changed from transparent to opaque at the press of a button.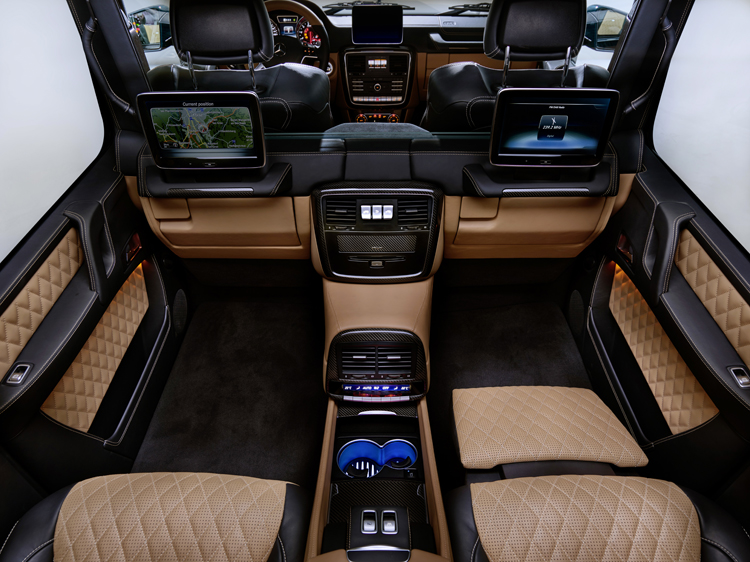 To afford the rear passengers the optimum in comfort, there is a large business console with thermal cup holders between the individual seats. These allow beverages to be cooled or heated over a lengthy period of time. The controls for opening or closing the glass partition are integrated behind the cup holders. Similarly to an aircraft seat, the centre console comes with two tables, which can be easily folded in or out with one hand. The table tops have leather inserts to provide a comfortable writing surface or to allow the use of tablets and notebooks.
Mercedes notes that the Mercedes-Maybach G650 Landaulet will be on display at the Geneva Motor Show in March and will go on sale the following month with deliveries set for this coming fall. At this moment there are no formal details regarding price, but stay tuned for more details when they become available.
all images courtesy of AG Daimler