New York-based design studio SOFTlab has transformed the Flaitron Public Plaza by installing an aluminum pavilion, called 'Nova', that futures kaleidoscopic views of the surrounding cityscape. Nova was commissioned by the Flatiron 23rd Street Partnership through a competition held by the Van Alen Institute. The installation takes its initial inspiration from the traditional gazebo as a pavilion within in a landscape that looks out in all directions. Rather than looking in all directions SOFTlab used the rich historical context of the Flatiron Plaza site to frame the various landmark buildings and pedestrians through a series of scopes. The scopes create a pavilion that is different from all sides at street level, but from the views above looks like a seven pointed star.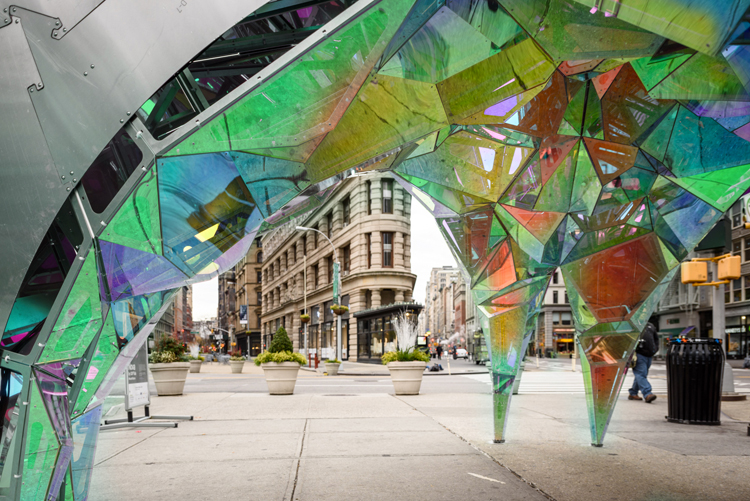 The structure is made up of a lightweight aluminum that gains its strength through a cell-like structure similar to a sponge or soap bubbles. Each cell acts like both a stone and part of a three dimensional truss. Each cell is unique in exposing a crystalline interior. On the interior the aluminum structure is clad in acrylic laminated with 3M Dichroic Film creating a kaleidoscopic affect. The dichroic film changes color and reflectivity depending on the viewing angle. The dichroic along with the mirrored finished composite aluminum panels cladding the exterior turns each cone into a pedestrian scale kaleidoscope that remixes the surrounding buildings, urban context and pedestrians in fun and unexpected ways. At night the aluminum composite exterior reflects the light of passing vehicles.
The overall structure is made of a modular system that SOFTlab developed in the studio with the help of ARUP. Each cell is made of two dimensional panels that get attached together to form a three dimensional cell. Each cell acts like a stone. These cells come together to form a structurally stable dome in the center with each scope acting as an arch. The seven arches come together to create a very stable structure that has at its base a larger platonic half sphere, but also exhibits the nuances and idiosyncrasies of the cell-like system. "This gives us both a very stable shape and a surface with many different angles to take advantage of the kaleidoscopic affects produced by the 3M Dichroic Film," explains the design team.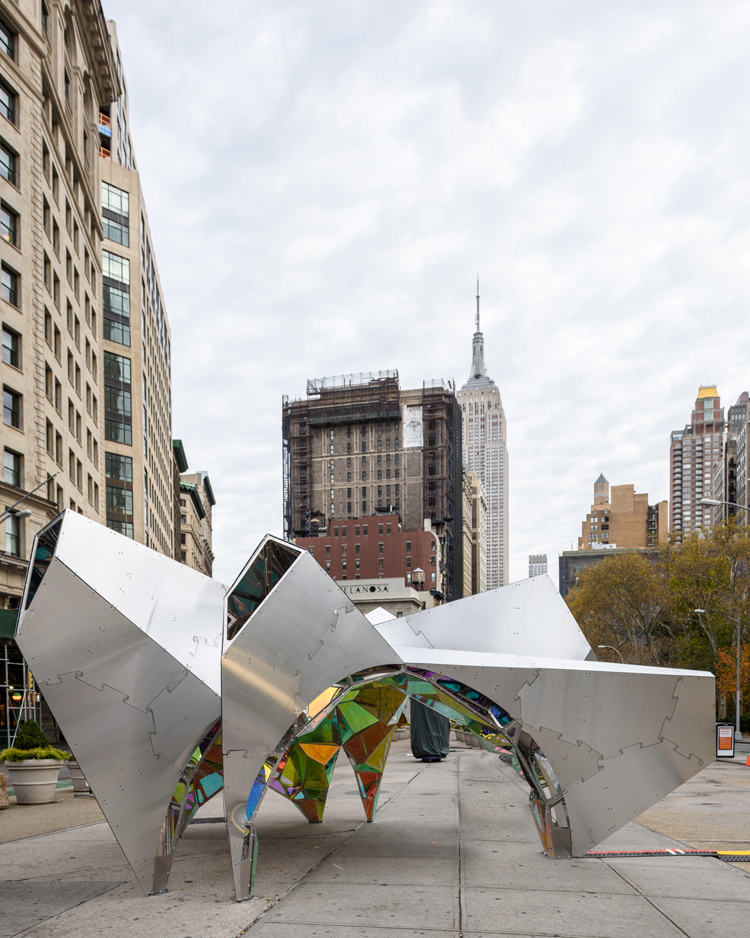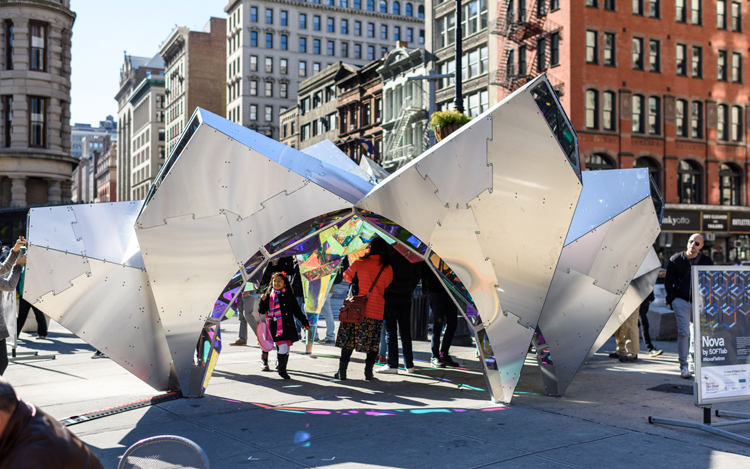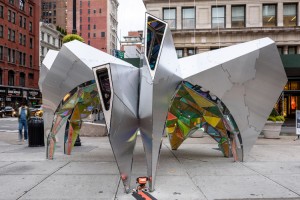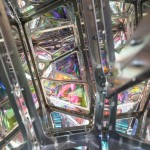 night shot courtesy of 3M | other images © Alan Tansey