Porsche adds an exciting new member on its GT family: the Cayman GT4. This is the first Porsche GT sports car based on the Cayman and features components of the 911 GT3. Clocking a lap time of 7 minutes and 40 seconds on the North Loop of the Nürburgring, the Cayman GT4 earns the same lap time as the 2011 911 GT3.
Powered by a 385 hp 3.8-liter flat-six engine derived from the 911 Carrera S engine, the Cayman GT4 transmits its power solely through a six-speed manual transmission with dynamic gearbox mounts. Zero to 60 mph is accomplished in 4.2 seconds; its top track speed is 183 mph.
The exterior of the Cayman GT4 highlights it as a member of the Porsche GT family and provides a clear distinction to related mid-engine coupes. Three pronounced inlet openings at the front and a large fixed rear wing are part of an aerodynamic package which is systematically designed for downforce.
The interior of the Cayman GT4 focuses on maximizing the experience of unfiltered driving enjoyment for both driver and passenger. Standard sport seats, which are upholstered in a combination of leather and Alcantara, offer excellent lateral support. The new Cayman GT4 sport steering wheel guarantees ideal control and direct steering feedback due to its compact dimensions.
The Porsche Cayman GT4 celebrates its world premiere in early March at the Geneva International Motor Show. This vehicle will arrive at U.S. dealers in July 2015. The starting price for the Cayman GT4 is $84,600 USD.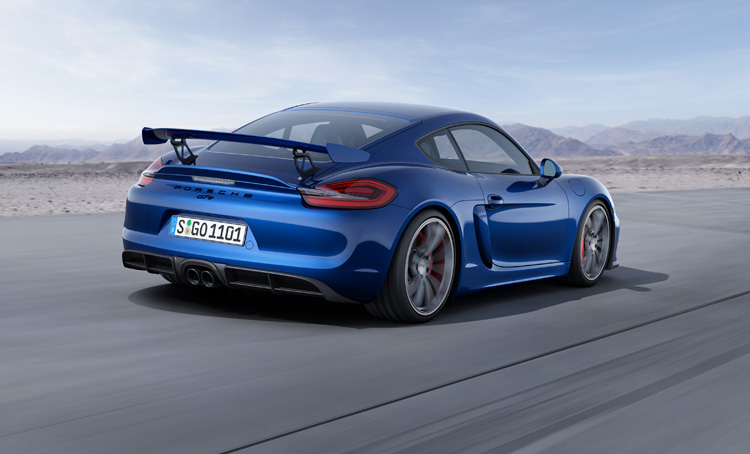 all images courtesy of PORSCHE