Rimac will unveil the production version of the world's first all-electric hypercar, the Concept_One, at the 2016 Geneva Motor Show. The Concept_One is powered by four extremely powerful permanent magnet electric motors, one for each wheel, located in the centre of both axles. Distributing a total of 800 kW / 1088 HP and 1600 Nm of torque, the Rimac All Wheel Torque Vectoring (R-AWTV) system precisely calculates the optimum torque for each wheel.
R-AWTV uses inputs from several precise sensors strategically positioned around the chassis and suspension to calculate the optimal torque distribution between the wheels through complex mathematical models and control algorithms. The system provides unseen flexibility and grip by controlling each motor individually one hundred times per second. This enables the Concept_One to accelerate from standstill to 62 mph in just 2,6 seconds and, to 124 mph in 6,2 and to 186 mph in mind-blowing 14,2 seconds.
The R-AWTV functions as a traction control, stability control and "electric ABS" system that also commands the 4-wheel regenerative braking of up to 400 kW that works together with the carbon-ceramic braking system.
To match the character, innovation excellence and sleek design of the Concept_One, a truly bespoke infotainment system was developed and manufactured in-house. All vehicle dynamics and powertrain functions such as the Rimac All Wheel Torque Vectoring System are controlled through physical buttons, machined from billet aluminium while secondary functions are controlled through the central touch-screen.
The system shows an abundance of information through beautifully optimised graphics and gives insights into the Concept_One's nervous system. Browsing through the menus on the central display, the driver can change the settings of the Rimac All Wheel Torque Vectoring system, brake force distribution, torque distribution, as well as various other functions. By changing the settings, the driver alternates the nature of the car depending on his preferences, from a calm and neutral setting to a track-oriented setup or the extreme drift mode that helps experienced drivers to have fun on a closed track.
Looking virtually identical to the concept that debuted at the 2011 Frankfurt Motor Show, the production model has a slender grille, a bulging hood, and a rakish windscreen. The car also features a carbon fiber rear diffuser, distinctive taillights, and 20-inch lightweight alloy wheels with Pirelli P Zero tires.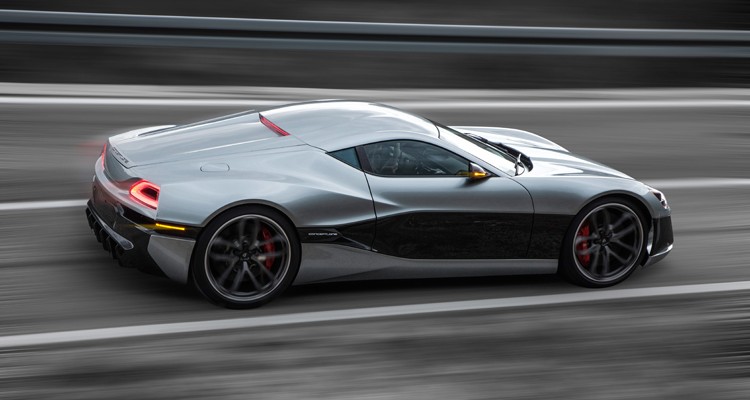 all images courtesy of Rimac Automobili