Colombo and Serboli Architecture have transformed a neglected and badly distributed apartment into an attractive holiday home. The apartment is located on the sixth floor of an art nouveau building in Barcelona, Spain. "In order to meet the brief, spaces had to be re-thought completely and all existing partitions had to be demolished"said the architects.
The day area was opened up completely by including what used to be a wide, semi-dark entrance space of the previous layout into the new bright living area. Special attention has been given to the creation a new zone, a relax area across interior and exterior.
 The terrace that had been closed years ago with a roof and aluminium window frames, has now been resumed, opened and extended towards the interior, in the living room, by treating part of the indoor space as outdoor.
The inner area has been lifted at the same level as the exterior. Architects used the typical "rasilla" terracotta tiles to clad the floor as well as the new masonry seats folding all around the relax area. One of these seats is is right below a window, allowing to seat looking inside or outside.
 By extending the wooden slats canopy across the facade wall, the portion of the terrace has been visually extended to the indoor relax area. On the opposite side, a bar table prolongs on the outside through the newly opened arc window, to form an outdoor dining table.
The kitchen island block is intended to allow to cook facing the living area and the same surface of the electric fires continues to create dining table suitable for six people, lit subtly by the streamlined Line lamp by Cronek, hanging above.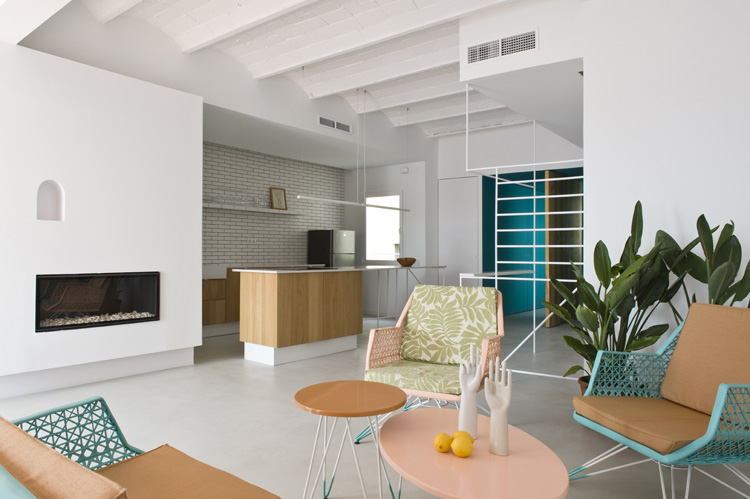 A great wooden pivoting door spins to give access to the night area. When the door is closed, the teal colour of the walls and ceiling appears framing the wood and through the white hole used as door handle.
The four double bedrooms are simple and almost basic, but detailed. Two layers of floor-to-ceiling drapery soften the matt light grey micro-cement that covers the floors of the whole apartment; these curtains either diffuse the light or block it. Stools painted with shades of the teal colour of the corridor are used as bedside tables.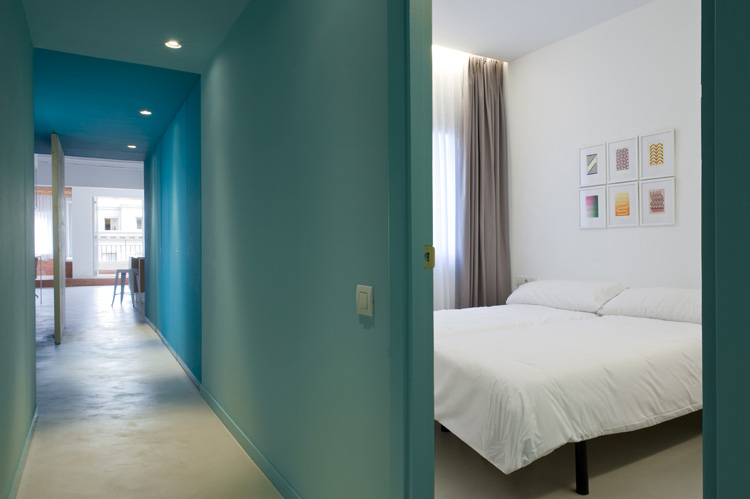 In two of the three rooms the bathrooms open onto the space to reveal a dash of coloured ceramic tiles, pink, yellow or light green, grouted with a contrast colour.
Showers are open on the bedrooms too, separated by a great glass partition. In the last two suites the washbasins are mounted on the specially designed white tube structures, in order to leave the space open. The tilted square mirrors allow one to reflect without blocking the natural light. The same tubes are used to create towel hangers and very simple racks to hang the clothes.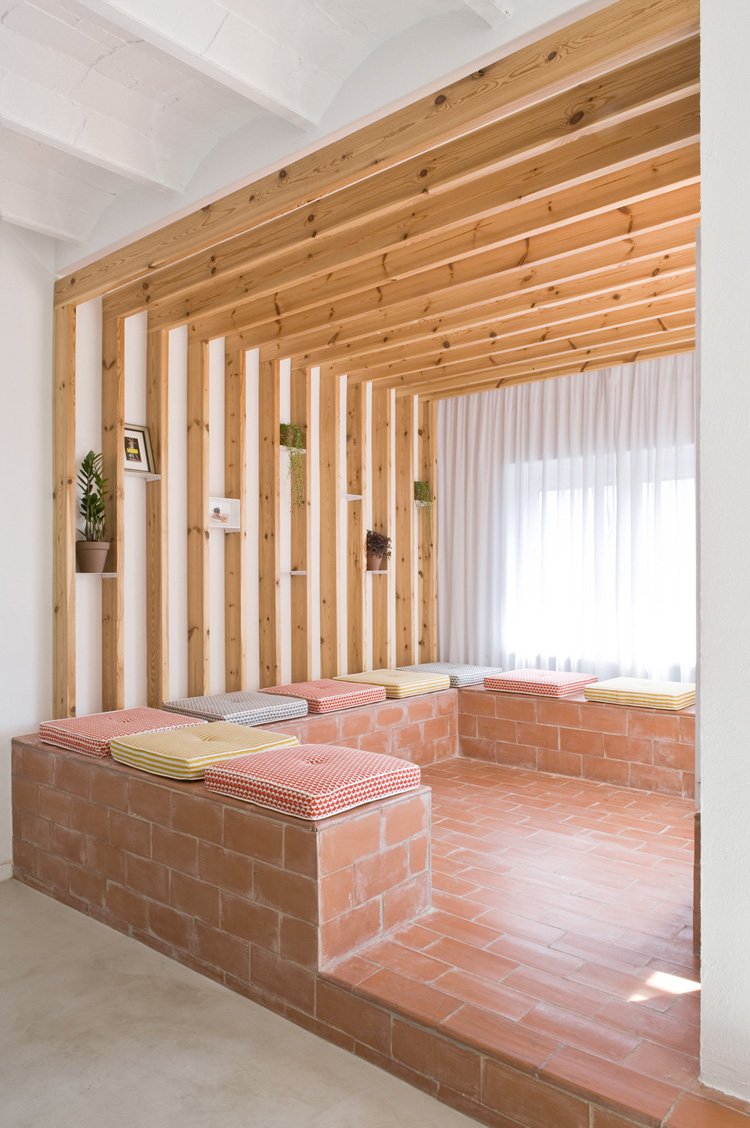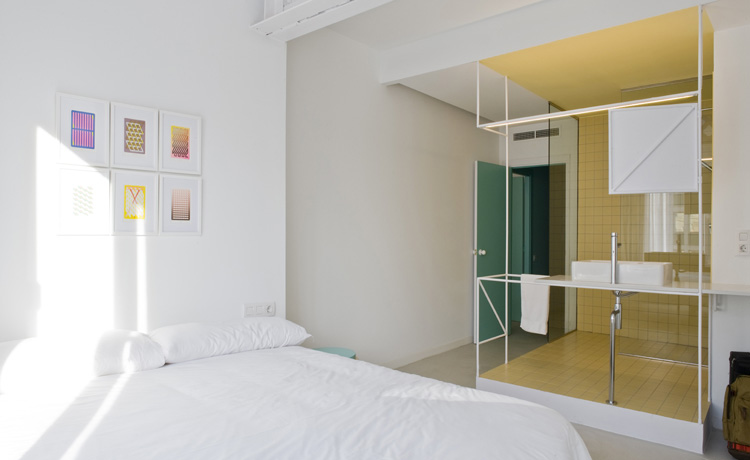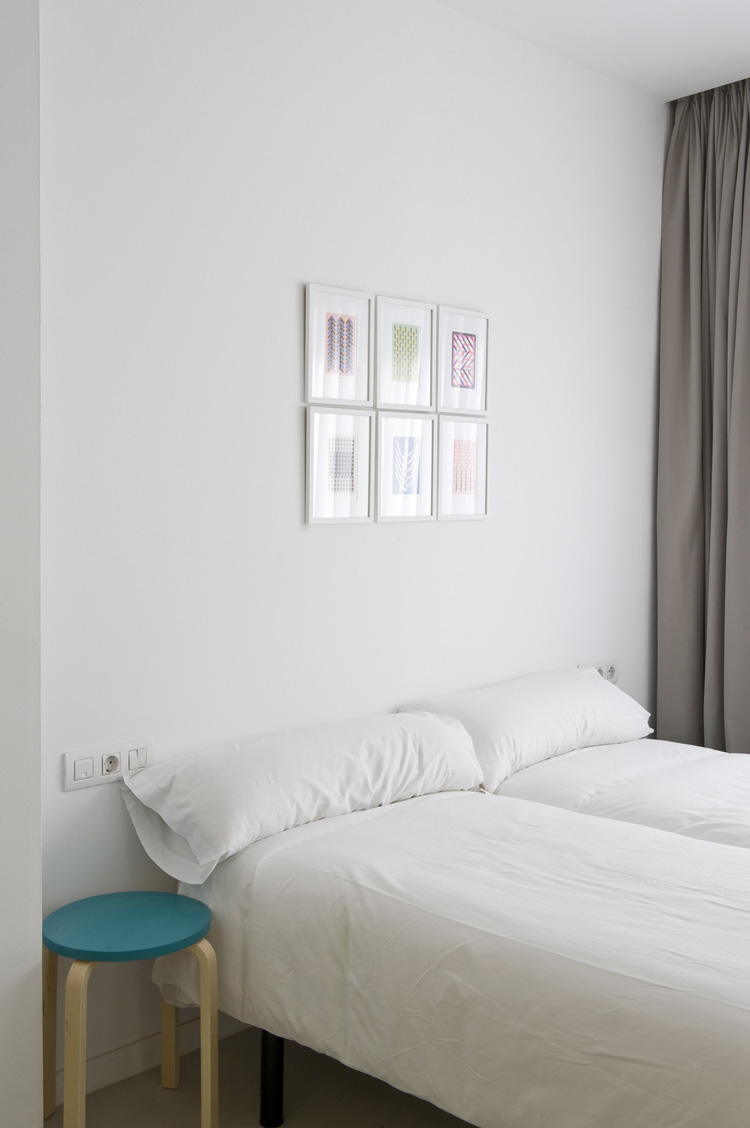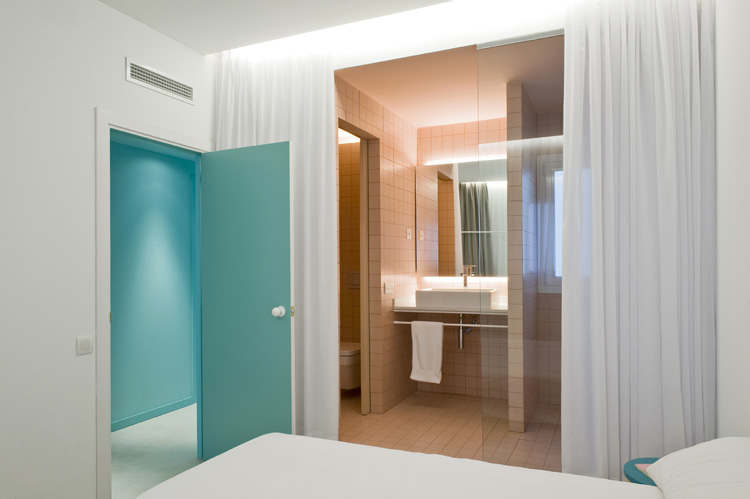 all images © ROBERTO RUÍZ