São Paulo firm Studio Arthur Casas designed this bookshop in Rio de Janeiro for Brazilian retailer Saraiva. Saraiva Bookstore was conceived as a hybrid between a public square and a library, a place for conviviality, leisure, concentration and rest at the same time. Its architecture is simple and inviting, it aims to disappear behind the books to let the mind wander about their content.
Located inside a mall in Rio, the store is divided into four floors. Visitors enter through a double height space, where shelves and showcases seem to float in order to highlight books and objects.
Showcases were designed so a book would not outstand others, inviting visitors to stroll around the diversity of titles. Platforms of different heights are occupied by objects that refer to varied themes. The shelves closer to the floor have such an inclination that their titles can be read by a standing person.
Armchairs and ottomans are spread throughout the bookstore. Historical Brazilian design items, such as Paulistano Chair by Paulo Mendes da Rocha and Beg Armchair by Sérigio Rodrigues, invite readers to forget about time and enjoy their books.
Multimedia spaces, a café, an auditorium and the children's space are located in the basement floors. Gray tones highlight the electronics contents and organic showcases serve as a support for interactive items.
In the children's room neutrality is broken with a multicolored ramp that invites the kids to explore the titles rendering the space to their scale. Trapezoidal niches are a playful interpretation of the architectural vocabulary employed in the rest of the bookstore, creating a world apart for the youngsters.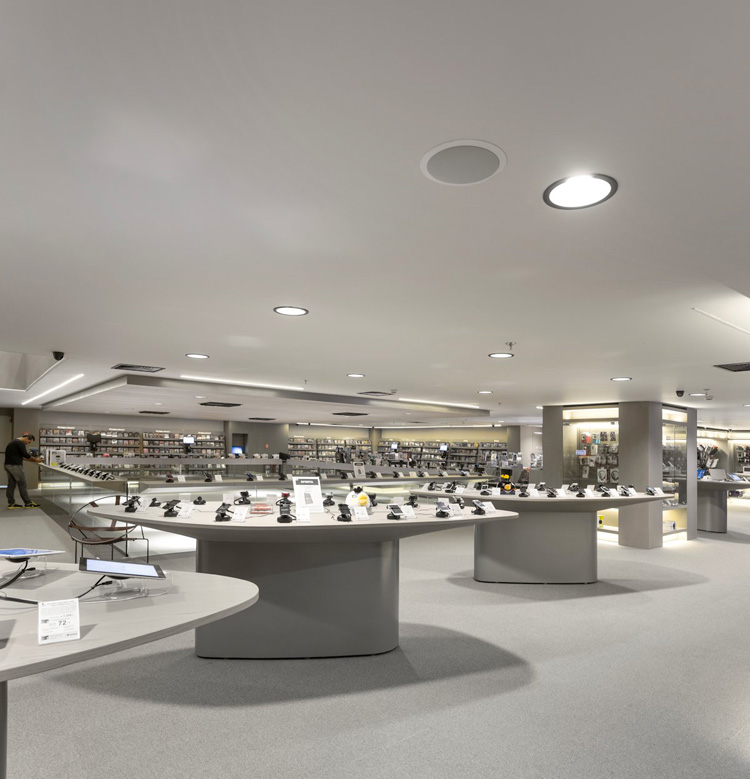 all images © Fernando Guerra I FG+SG