Canadian studio Scott & Scott has overhauled the interior of a 1950s house located near the base of Grouse Mountain in the northern of Vancouver, Canada. The living space was stripped of embellishments, services rationalized and the enclosed stair was replaced with a new open stair of steel and fir which allows for the light from the second floor hall window to connect with the ground floor.
The project draws from the architects and clients — two history professors— shared interest in traditional materials and respect for the original details of the house.
To brighten the spaces the douglas fir beams were lye washed and the structural decking was finished with a cloth applied pigmented oil. The living spaces were reduced to the structural shell, the walls were repaired and finished in a natural lime based whitewash and the floors ground and troweled.
The materials used were selected for their contrasting strengths and minimally finished using traditional methods that are maintainable and acquire visible signs of use over time. The steel stair and fireplace frame were finished with wood stove paste and bowling alley wax and the cabinetry was lye washed and sealed with soap.
With minimal change to the configuration of the spaces, the functional storage was consolidated into two douglas fir plywood cabinet blocks to maximize the open spaces while providing concealed storage for the living, entry and kitchen.
The kitchen was crafted of solid ash and designed for the open storage of the owners collection of studio pottery. While open and light in section, the joinery was detailed to structurally bear the weight of the 800kg marble counter monolith which was milled from a block the architects selected from the Hisnet Inlet quarry located on Vancouver Island near their own alpine cabin.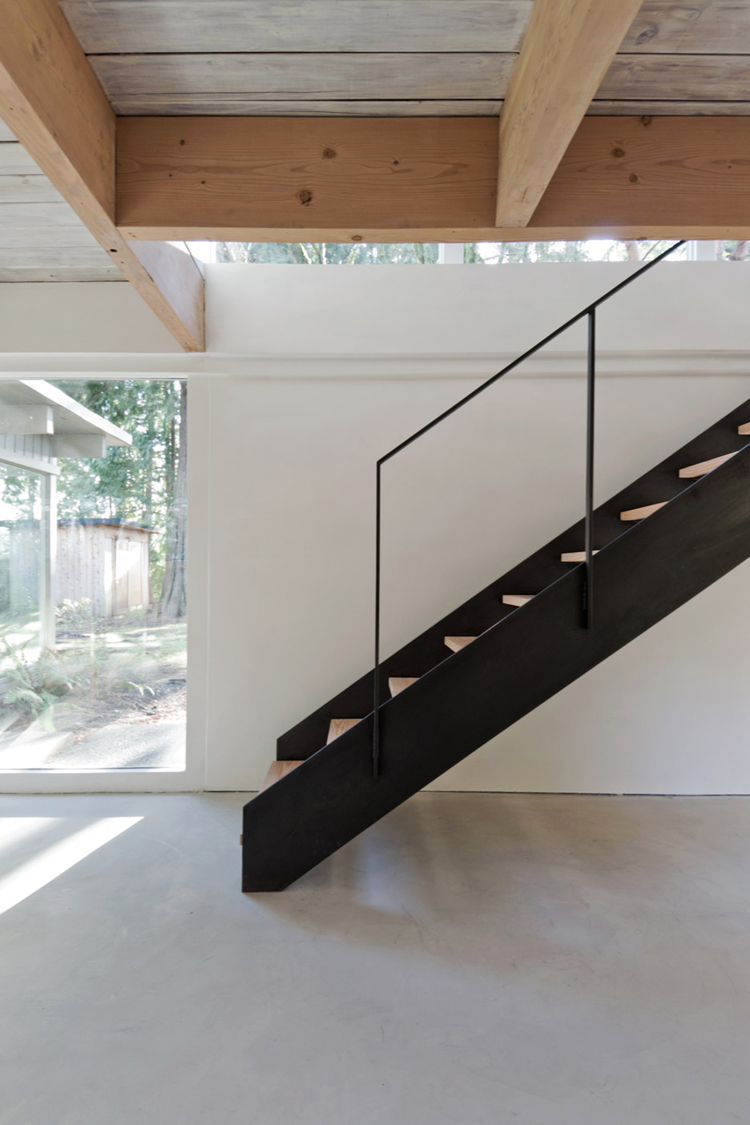 all images courtesy of Scott & Scott Architects