stpmj's Invisible Barn is a site-specific installation that re-contextualizes the landscape of the Tahoe National Forest in California by projecting the surrounding landscape on the mirroring surfaces of the structure. A barn shaped-wooden structure is sheeted with reflective film on its surfaces. This mirror-finished folly is placed in the middle of the grove and reflects its surrounding environment: different species of trees and plants, sky, ground and the seasonal changes of the site. The reflection of the folly within its enclosed grove allows the structure to smoothly assimilate into the nature. The incisions that penetrate through the folly allow visitors to maneuver in, out, and around the structure. Invisible Barn is a folly that loses its man-made architectural presence in nature but adds novel experience and interaction to the users.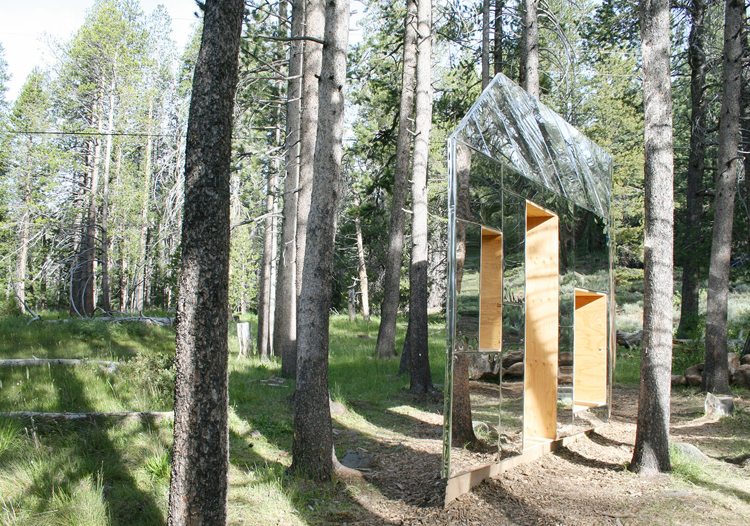 Invisible Barn is placed in the core of the grove which lies on the passageway of the site. Around the circumference of the grove there are a dozen of trees in similar size and equal spacing from one another. Due to the similarity of its size and placement of the trees, the projection on the mirrored surface is similar to what people would see without the folly. The visual illusion that blurs the perceptual boundary between the folly and the site, allows the folly to be disappeared and invisible in nature, reconstructing the landscape of the site.
The barn is shaped as a skinny and long parallelogram to elude the dense trees. The beveled folly has openings with various sizes and depths that connote windows and doors. These solid and void on the folly's envelope, reflective film and plywood-framed opening, accentuate the openings. This creates a visual trick that the framed openings are floating on air in the grove. Through these apertures visitors perceive the subtle differences between the real and the mirrored landscape, understanding the depth of the grove and other art installations over the site. The apertures may suggest viewing frames, passages, and benches and visitors are intended to interact physically and visually with them.
In addition the reflective sheathing is aluminized polyester film which has more than 90% of UV reflectivity in the range of 200-400nm wavelength. Though human does not recognize this UV reflection but it is perceivable to birds so that prevents them from colliding onto the structure.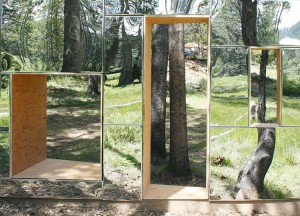 all images courtesy of stpmj