South Korean studio Shinslab Architecture has converted a rusty old ship into a temporary pavilion at Korea's National Museum of Modern and Contemporary Art (MMCA) as part of the Seoul edition of MoMA's Young Architects Program.
'Temp'L,' coined by architect Shin Hyung-chul, is a compound word derived from 'temporary' and 'temple.' It is a pavilion type of structure that has been installed temporarily as a meditation space in downtown Seoul during the hot summer season. This unique structure has been created by integrating the concept of recycling, a strategy perceived today as a universal need, and the "Ready-Made" (a creative method of contemporary art, coined by Marcel Duchamp in the early 20th Century, that consists in transfering everyday objects into the context of museums).
The shape of a discarded cargo ship has been transformed into an ecological and relaxing space following an environmentally-friendly architectural design. The interior forest space, which is colored white in contrast to the rough and rusted outer surface, is designed to provide viewers with a new urban experience as well.
Shin Hyung-chul said that Temp'L was inspired by contemporary artworks which began from the spirit of avant-garde during the early 20th century. This innovative artwork provides an opportunity for the viewers to reflect on global issues related to industry, environment, humanity, and ecology.
The Temp'L pavilion will be on show until October 3, 2016 in in the entrance courtyard of MMCA Seoul.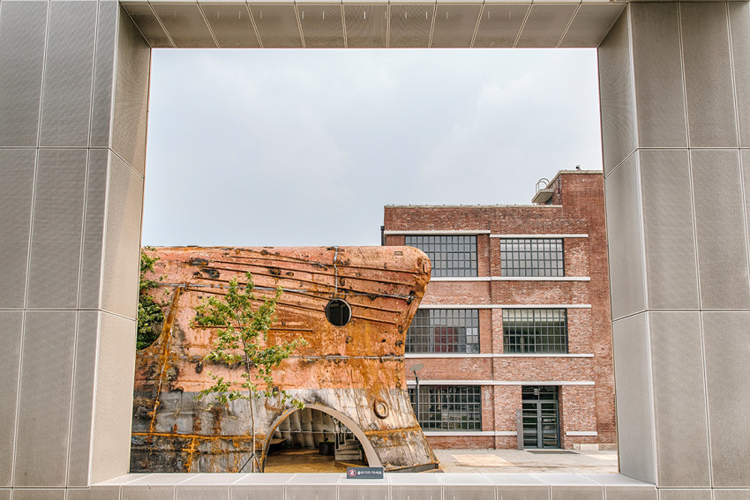 all images courtesy National Museum of Modern and Contemporary Art, Seoul