The Hole Idea in Winnipeg, designed by Weiss Architecture & Urbanism Limited, is a whimsical snow tunnel that may seem like a kids-only zone at first glance, but is an engaging installation that can spark the curiosity of anyone who is trudging by in the snow. In November 2014, the firm's design entry entitled "The Hole Idea – Now in Technicolor" was unanimously selected by the jurors of the International 2015 Warming Huts Art & Architecture Competition. Subsequently, the firm worked closely with Blackwell Engineering and the fabrication team at Canada Culvert to complete the corrugated steel pipe construction for the start of the city's skating season in January 2015.
Once fabricated and assembled, the colourful hut was towed out onto the ice of the Red River, placed along the city's extensive natural skating track and then covered in two feet of snow. The structure was designed so that only the very top of the coloured pipes and the big, bright yellow opening are visible on the surface of the constructed snow bank.
The design was inspired by the 1955 Looney Tunes animation, "The Hole Idea" in which an eccentric scientist develops a portable hole. Whereas the original cartoon holes were black voids, the playful holes created in the Winnipeg snow are bright orange, yellow, pink, blue, green, and purple. Fitted with a wooden bench, the large vaulted space of the hut functions as a refuge from the cold winds howling down the river. The colourful array of holes on the snow's surface brighten up the ice the cold and wintery landscape.
The project has been an incredible success. Since it's placement on the river, The Hole Idea has been played with, played in, and played on. Its snow cover has been manipulated and transformed. And while children are definitely attracted to its capriciousness, it has also been heavily enjoyed by a great diversity of people, young and old. The project's success continues with its recent win of an Ontario Association Of Architects Award in the Concept Category.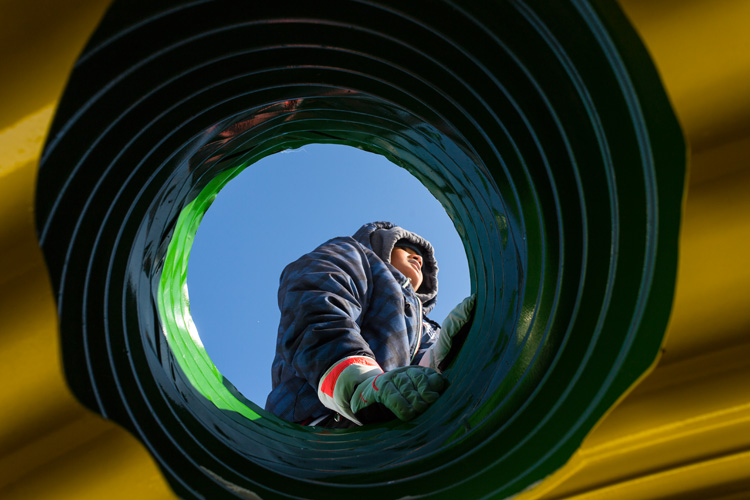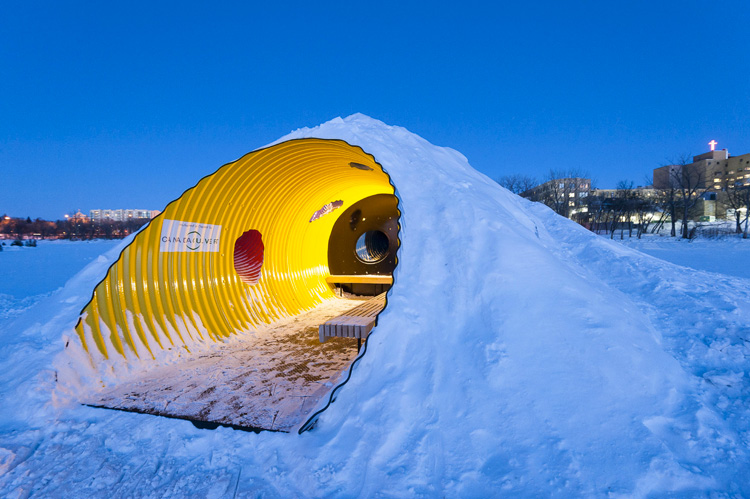 all images © LEIF NORMAN