Bratislava-based studio JRKVC has designed this house in the Slovak countryside trying to find the essence of a holiday home. The dwelling serves as a refuge for a family of five living in the capital, who want spend their free time with family and friends in the countryside.
The single-storey bungalow is organized around a central living area with a fireplace. Secondary functions are shifted sideways, their volume wraps around the living room. Thanks to folding doors living room opens to the south terrace. There is an asymmetrically positioned hipped roof. Over the south terrace it creates a valuable space protected against sun and rain. Inside the roof serves as an additional space to accommodate additional guests or a hideout for kids.
Outside the cabin is almost monochrome, just natural wood and white painted cladding with no details. All attention is paid to the essential part of the house, which is inside. There we find the beauty, colors and textures.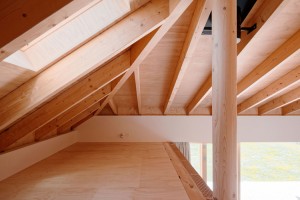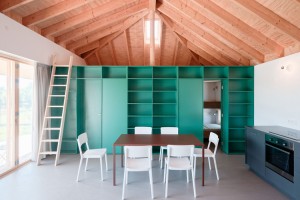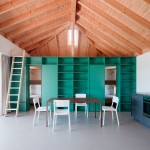 all images © Peter Jurkovič