If you want to prepare your house for warmer weather, you have to start early. Fortunately, we have several tips that can help you do just that. Would you like to learn more about it? Go ahead and continue reading.
Check the Air Conditioning
First, you have to make sure that you can have your air conditioning unit serviced. This way, you can be sure that it will work throughout the warmer months without any malfunction. Having your unit serviced early will also prevent you from having to deal with the high demand for HVAC repair shops in summer.
Try to Keep a Regular House Cleaning Schedule
You also have to clean your house regularly even before the summer months. This way, you can be sure that dust will not accumulate as much. It would be too hard to clean because of the hot temperatures in the summer. By cleaning your appliances as well, you will prevent possible overheating in summer.
Maintain Your Windows and Doors
Fall and springtime will be the perfect opportunity for you to clean your windows and glass doors. It will give you a chance to evaluate the condition of your windows and have them replaced right away.
Just put some water and organic cleaning solution on a spray bottle and wipe down your windows to prevent scratches when cleaning.
Inspect the Outdoor Plumbing Equipment
Also, try to inspect your outdoor plumbing as much as you can during these months. Check to see if they have fared well during the winter months by removing the insulators or freeze caps from the outdoor faucets.
After this, you can turn on the faucet. If there is a small amount of water trickling down, it would be best to call the local plumbing company to address the issue right away.
Prepare the Summer Equipmet
You should also take the opportunity to get all your summer equipment ready. You will use the lawnmowers and sprinklers well during summer. Check on them for maintenance as early as now.
Look At the Roof
Check your roof for winter damage. Additionally, try to look at your house exterior for any repairs needed. Use a good pair of binoculars to check for any significant water damage in the shingles or gutters of your roof, especially if it is too high for you.
If you have a single-story building for a home, climb up the roof to check for damage with caution. This way, you can take a closer look while still keeping yourself safe. Seek professional help from roofing experts of Rugged Roofing for any roofing services you need.
Inspect Your Walls
Take this chance to check on any chipping paint or damage to your exterior walls. This way, you will be able to start repaints before it gets too hot to work outside.
Clean the Gutters
Make sure to clean your gutters and sprouts as regularly as possible during the fall. This way, foreign particles will not end the buck humiliating and clogging your gutters which might eventually cause interior damage if left unchecked.
Maintain the Attic
Fall will also be a good time for you to check your attic. During this time, it will not be too humid are hot to go up there. Check for signs of the animal infestation and damage in your attic. These creatures may have taken the opportunity to find themselves a home in your attic during the colder months.
If you find anything, do not hesitate to contact your local exterminators as soon as possible to prevent possible problems in the future. Clean up your attic to create more space as well.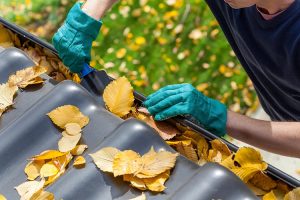 Unclog the Ventilation Ducts
Clear up your ventilation ducts for better airflow. Examine your vents for obstruction and any other type of blockages that might prevent the air from freely flowing through the house.
If the vents have become severely blocked, consider using and installing more insulation. Contact your local home repair company for more information on home insulation.
Get The Yard Ready
Lastly, do not forget to clean up your yard. A clean yard will help you get ready for vacationing kids and adults who might want to spend time outside. Examine all your playground tools and equipment for any damage. If you find any, have it repaired as soon as possible.
You can also bring out the extra furnishings and cooking equipment outside to provide more entertainment and seating for guests.
Closing Statement
For more information on how to prepare yourself and your house for the summer through air conditioning, check this article now. You can also visit toohumid.com now to gather more information about ductless air conditioners.