A new optometry clinic has newly opened on Plateau-Mont-Royal in Montreal. In addition to offering a range of eco-friendly products, the space is designed to promote the profession of optometrists and rethink their place of work.
Local studio Catherine Catherine designed the store around an examination room with glass partitions, located in the center of the space and visible from the street. Clients can take their eye exam under the intrigued eyes of passers-by. The partitions let in natural light, an asset for this clinic and its doctors. Outside the examination room, the space is multifunctional and allows patients, as well as employees to settle at the place of their choice: bench, small reception desk, large service counter.
The majority of the clinic's furniture has been custom designed. The dimensions of the space being limited, Catherine Catherine have minimized the surfaces of the rooms and designed adapted furniture. For example, the exam room is equipped with an " L " desk encompassing the practitioner. Everything is easy to access, at the right height and makes the exam fluid.
To maximize the space, the designers have designed a flexible and open plan. The pre-test room has been reduced to a minimum, as it only contains devices used rapidly before exams. The designers put it in an alcove that can be opened and closed with opaque curtains. This room is in connection with a high table to which guests are invited to sit. This table is reminiscent of a kitchen island that allows various gatherings, discussions and the adjustment of eyeglass frames.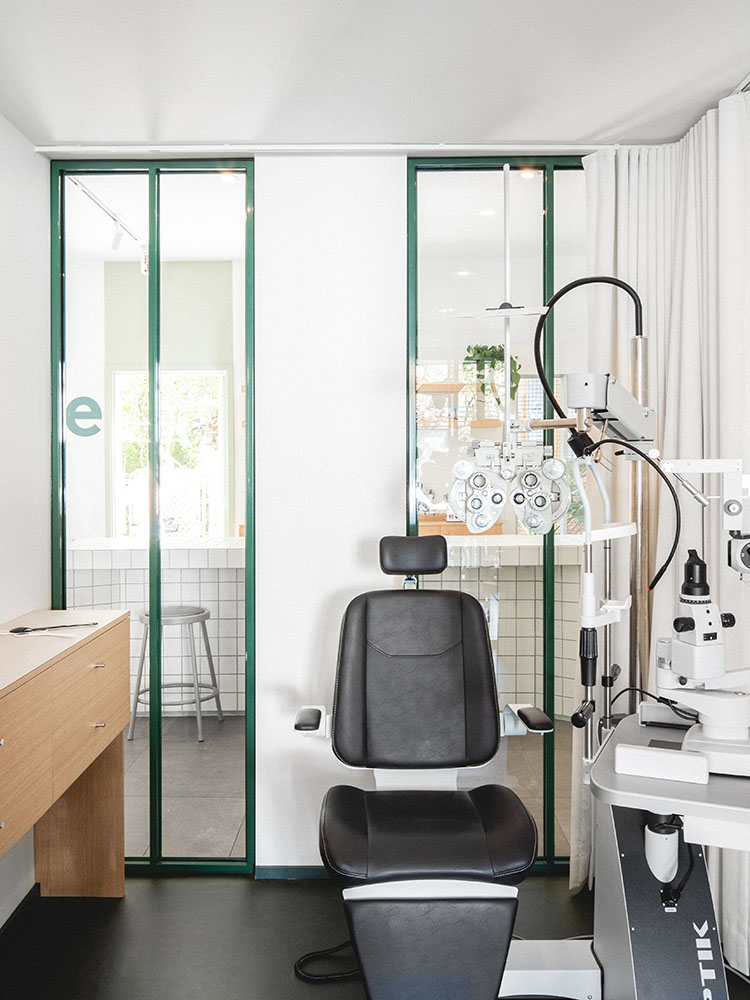 The frames were arranged on both sides of the shop. Catherine Catherine has designed wooden displays that are built-in on one side and hung like frames on the other. The oak allows to bring heat to the space, but also to emphasize the mounts.
The display structures were designed so that users could see themselves in mirrors easily, but also to make the frames visible and structured. The frames are gently deposited in a non-overloaded environment, making the visit and search more enjoyable. The provision of frames also allows employees to make a good inventory analysis.
When choosing frames, a tray allows customers to make several choices and place them on one of the small tables. These tables are places against on a bench where one can wait, but on which customers can sit down to take the time to choose the right frames. The bench recalls a cafe and makes the place less medical.
The materiality refers to the world of clinics, but is distinguished by its natural woods, ceramics and bright colors that reflect the brand image. The shop is warm, accessible and anchored in the neighborhood.